New managers must keep this in mind: best team building is a learning experience that requires creative and deliberate design. Team building aims to help the team succeed. Wise managers invest time in building teams.
Unfortunately, some companies conduct annual team-building events but fail to build high-performing teams. They waste time and money on team-building packages that revolve around games that do not build teams.
As a manager, your first job in building a team is to understand your team members, the purpose of your team, and how to design learning experiences that are focused, relevant, and engaging,
Managers must build teams.
Effective managers build teams. They invest time in team building to help team members succeed together. The phrase "team building," however, is often misunderstood.
For many Filipinos, team building is either an event or the games they play once a year. The company brings them to a beach resort to play team games.
Good leaders know that team building is a strategy. They invest money, time, and energy because a cohesive and high-performing team is essential to the success of any organization.
You don't build a team in a day. It is a day-to-day effort.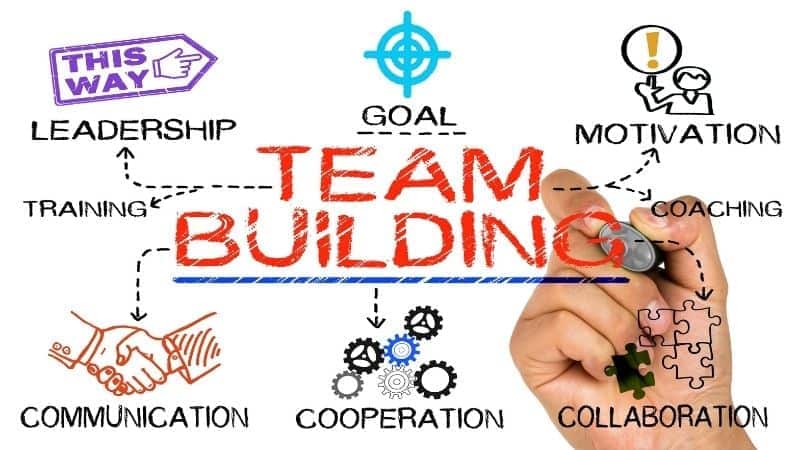 Glossary
Before we continue, it is important to understand some of the terms that we are going to use. As I have mentioned, have different experiences when it comes to team building.
Many team-building providers sell "team building packages" that do not build team competencies, relationships, and mindsets.
My mission is to help companies make the most of their team-building initiatives. I help them create learning experiences that build successful teams.
Anyhoo. Open each accordion to understand the meaning of each term.
Why Team Building Efforts Fail
Team building fails when the sole purpose of managers is to make employees happy being away from work. You can build camaraderie through relaxation and recreation. You can build bonds between members by making them play parlor games at work. But your investment in team building must support the accomplishment of team goals.
Organizations worldwide invest billions in activities, games, and exercises. Many employees think building a team involves exercises, games, and activities.
Team learning isn't just playing games. But many embrace this wrong belief. With no clear purpose, playing games is often a wasted effort to build a team. But this is not the worst. What makes most teams fail is ineffective team building while working together.
Wise managers embrace team building as a process.
These managers don't just make people play games for the sake of playing games. They use games, exercises, and tools to achieve specific results.
They conduct exercises to build trust, strengthen communication, and improve work processes. They use exercises that build skills to resolve conflict. They use experiences that enhance creativity, innovation, and teamwork skills.
Team building is an intervention. It helps ensure that a team achieves its purposes and goals.
How to Make Team Building Work
Typical events are one-day or multi-day offsites. Managers who prefer game-based events hire organizers to run their events. The goal is to build camaraderie, celebrate employees, and have fun.
Managers who want a result-oriented team learning experience hire process facilitators. They solve problems together, find new opportunities, and exercise collaborative decision-making. Team facilitators use games, exercises, and tools.
Larger organizations have trainers who are comfortable leading learning sessions. Some HR practitioners can also run team learning sessions. Internal facilitators often have a better grasp of the needs of the team. They often interact with them and are familiar with the work objectives.
On the other hand, an external facilitator can help them see things with fresh new eyes. But the team leader has the most significant impact on building the team.
Members expect team leaders to lead in team learning. Team leaders must ensure that team members get into the right team mindset and get new team skills. Team leaders can embed in every meeting a few activities that promote teamwork. There are team activities that can be done in 15 minutes or less.
Many managers waste time and money when they buy "packages."
Team building works when it achieves personal, social, and organizational objectives. It is vital that learning brings about behavioral change.
Why Use Team Building Games
To build a team that values collaboration, avoid games promoting win-lose or even lose-lose outcomes. As I have mentioned, your team exists to make your team serve your customers.
A common mistake is to think that team sports are the best metaphors for teaching teams. While we can gain some insights from team and individual games, the most successful businesses pay more attention to adding value.
A common mistake is to think that team sports are the best metaphors for teaching teams. While we can gain some insights from team and individual games, the most successful businesses pay more attention to adding value.
What are team-building games?
Team-building games are experiential learning games designed to help team members engage in shared experiences. These shared learning experiences stimulate discussions about team problems and help teams reflect on what prevents them from performing at their best. For example, a team-building game may help participants discuss communication, collaboration, cooperation, role clarification, goal setting, and decision-making.
Team-building games' fun and friendly nature help participants open up and trust each other.
A team-building game is a teaching tool. The best team-building games make participants compete against time and standards, not against each other.
Most team-building programs fail because facilitators fail do not distinguish between a team-building game and a team game.
Team games are games in which teams play against each other. Examples are sports games or even parlor games. In team games, a team wins, and all other teams lose. It is always win-lose. The ultimate objective of team games is winning.
The ultimate aim of team-building games is win-win and learning.
Because of the collaborative nature of team-building games, all teams may win. But winning or losing, what's important is they learn something that can make them a better work team.
Use collaborative team-building games.
Collaborative team-building games get different teams to work together to achieve common goals. These games are apt metaphors for what we do at work. Though each work team has different goals, each collaborates with other teams to achieve results faster.
Almost all group sports promote teamwork. But you must be careful when choosing your sports metaphor for team games.
Because how you win the game is a metaphor for how you want people to achieve corporate goals. You cannot build a team by making them "kill" and "cheat" each other in your games.
But every time you choose games that make one team win and other teams lose, most of your team members will feel like losers. When you process the game's results, you cannot merely say that one group did not win because their members have less or no teamwork.
(In obstacle courses or tug o' war, physically strong people almost always win).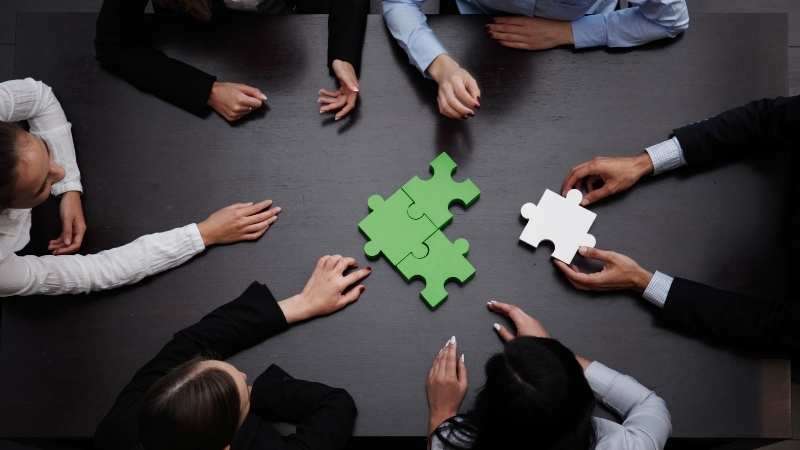 Choose friendly team-building games.
Friendly games are more fun the competitive cut-throat games. They are safer too. Team-building games must help us learn as a team, not show who is the best in games. Design games in a safe and friendly environment.
You don't want your employees to compete against each other. You want them to collaborate so they can serve your customers together.
To be number 1 in your industry, you do not have to kill your competitors.
To be number 1, you have to delight your customers so they will choose you every time. You do not set your eyes on your competitors all the time. Set your sights on your customers. Communicate well with your team members to deliver excellent service as a team.
To build a team that serves your customers, use team games designed to teach them to create excellent customer experiences.
Unleash the potential of your members.
You can unleash your team's potential by picking the right team building games.
In real life, you will not die when you make mistakes. You can use your mistakes to enhance your skills and serve your customers better.
If you have teams like customer support, marketing, production, and operations, don't choose a game that makes other team members losers.
There are better alternatives to killing each other in a game.
Winning in business isn't about making your competitors fall. You win by serving your customers to the best of your abilities so they choose you every time. And sometimes, this even means collaboration with your "competitors".
Avoid Games that Destroy Teamwork
Many team games destroy teamwork, build mistrust, and are unsafe. When not handled correctly, team-building efforts may create more significant problems than they purport to solve.
For most employees, team building refers to activities, usually games, outside of the office to help team members build rapport. Event organizers and venue owners sell these game packages.
For the team leader, it is an opportunity to educate the team about the organization's goal, a chance to motivate team members, and an avenue to fix common team problems.
For the human resource department, it is an intervention. When teams are not achieving their objectives, some HR professionals recommend team building as a solution.
For many organizations, it is an expense. It has no measurable return on investment. And if they can make people understand this, they won't do any team building.
For champion organizations, team building is an essential strategy that may give them a competitive advantage. It may help them improve team performance.
Sample Team Building Program
The best team-building program is result-oriented. It must be tailor-fit to the needs of your organization. Here's a sample of a team-building workshop flow.
Reconnect, Refocus, Reenergize
To ensure that our teams grow stronger, we must provide members the opportunity to bond, renew their commitment to the team's purpose, and prepare themselves for the challenges of change.
Teams that pay attention to the development of their core competencies thrive. They are resilient and can quickly adapt to new situations.
Members of the team will practice the following vital behaviors:
Build better connections
Focus on high-impact activities
Adapt themselves to the new normal.
Morning
Better Connections
Team members commit to each other because they know members beyond their names. They respect and value each other.
Activities:
Team Chant (15 Minutes)
Beautiful Life
9 Dimensions (20 minutes)
Think Out of the Box
Most problems seem complicated at first. Most people jump to possible solutions without a clear understanding of the problems. These activities encourage participants to find simple solutions to complex problems.
Activities:
Mining Conflict (15 minutes)
Insanity Loop (15 Minutes)
Obstacle Buster – The First Step (10 Minutes)
Focus
Stronger teams understand where to focus their attention. In this session, participants will explore ideas about perspectives and focus.
Activities:
Hocus-Focus (20 minutes)
Zoom/Rezoom (30 minutes)
One Thing Exercises (30 minutes)
Afternoon
Thrive in the New Normal
Stronger teams are resilient. They adapt themselves to every situation and find opportunities even in tough times. The following activities provide tools members can use to find solutions to new normal challenges.
Activities:
How- Now- Wow Matrix (40 Minutes)
Accountability Game (30 minutes)
Next Steps Commitment
We consider the obstacles given in the early part of the program. Then, we encourage participants to consider two or three personal actions or commitments that will help improve the team.
Obstacle Buster Using QBQ (30 minutes)
Declaration of Commitment (30 minutes)
Challenge Talk
The Facilitator
Jef Menguin is a trusted team-building consultant and facilitator in the Philippines. He is famous for designing fun and engaging team experiences that change behaviors, promote a growth mindset, and develop team skills. 

Once a year, he conducts a team-building facilitator boot camp to enable trainers and managers to design and lead team-building experiences.

He has also conducted team-building programs in Malaysia, Indonesia, Taiwan, and Thailand.
Team Building in the Philippines
I have been facilitating teambuilding workshops in the Philippines since 2007. It has been a rewarding experience helping organizations develop leaders through team learning.
Over the years, I must have conducted hundreds of team building in almost every city in the Philippines. Yet, when I was beginning, I wanted to deliver motivational talks.
Motivational speaking is more lucrative. However, team building can make people discover the wisdom of teams. You can bring out the motivation of each member through shared fun and engaging experiences.
In 2022, I created another website to educate managers about team building as an intervention, help venues get more clients, and train a new breed of team-building facilitators.
Though I still conduct teambuilding workshops in the Philippines, I choose to do it for three kinds of leaders: CEOs, managers, and supervisors.
Most of the teambuilding programs in the Philippines are into playing games—all games and without learning.
It takes many leadership skills to lead teams. If you want team building with FLEX (focused learning experiences) done in a fun way, visit Successful Team Building.
If you want to bring your whole organization to a teambuilding experience, go to https://teambayanihan.com.
It is more fun to do teambuilding in the Philippines.
---
Team Building FAQs
Take-Aways
Most team-building initiatives fail because they don't serve a purpose other than playing outdoor games. Conversely, successful team building is purpose-driven.
You can help your team master team skills, build stronger relationships, and achieve goals.
A clear understanding of team building, both an event and a process, helps team leaders create a highly successful and purpose-driven team.