Team building objectives refer to the goals and intentions set forth when organizing activities or initiatives designed to improve team cohesion, trust, communication, and productivity within a group or organization.
These objectives can range from enhancing interpersonal relationships and promoting a positive work environment to refining problem-solving skills and aligning individuals toward a common organizational vision.
Why do team building?
Team building is the process of creating, inspiring, and enabling team members with complementary personalities, roles, and skills to achieve common objectives. Team building helps align goals, strengthen competencies, encourage commitment, and promote harmonious relationships.
I run virtual and in-person team-building workshops to help managers build successful teams.
The importance of team building lies in its ability to foster a unified and motivated team. When teams function cohesively, they demonstrate increased collaboration, heightened morale, reduced conflict, and improved efficiency, all of which contribute significantly to the overall success and performance of an organization.
If you are here because you want to know the most important objectives of team building, you are in the right place.
When you aim for objectives, you will have a high return on your investment.
Why Team Building Objectives Are Important
When team building objectives are not clear, organizations waste time and money in team building. Because many team-building providers offer team-building games as if all teams are the same, they talk more about team-building packages and seldom about objectives.
When you are clear about your team-building objectives, you make the most of your team-building initiatives. You will not waste time playing team-building games that do not add value.
You can easily spot a team-building program with unclear objectives.
Participants run from one game to another like headless chickens. They follow what the game masters say, but do not know why they have to do the silly games.
One time, I saw a game master who made a team composed of more than 100 participants play the Spider Web game. Four persons have to lift each team member to pass through a center hole. That means they have to do this game for more than an hour.
From where I stand, I know that game mechanics cannot bring the concept of creative thinking, prioritization, communication, and teamwork. There were about six teams with 100 members each. It would take them a half-day to finish the activity.
There is no teamwork when the 96 members are waiting for their turn to be lifted so they can get to the other side.
It was a waste of time.
Games must serve the objectives of your team building.
Every activity, including your debriefing sessions, must serve the objectives of team building.
Anyhoo.
Every team-building activity has unique objectives for the team. This is why most of the team-building packages that offer canned programs may only help you a little, no matter how fun they are.
The purpose of fun is engagement. It is important to engage your team on something worthwhile. When you need my help to identify objectives and facilitate your next team building, contact me today.
Let's proceed to the 12 most important objectives of team building.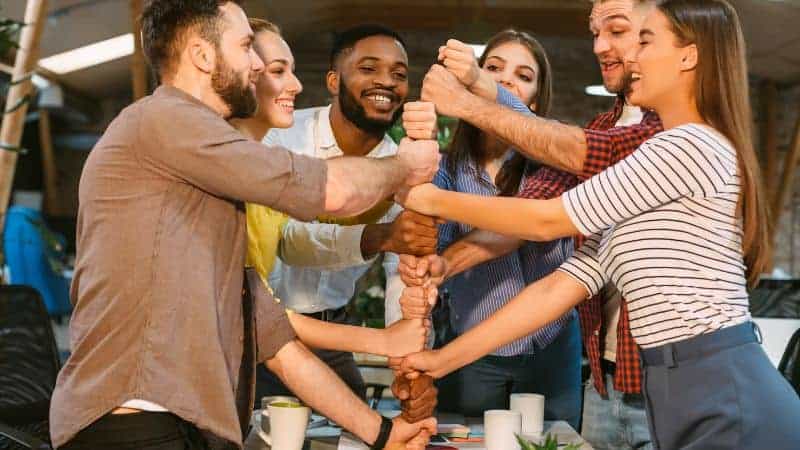 Objectives of Team Building
I often say that there are three main purposes of team building. Each team-building effort must build the individual, improve team competency, and build relationships.
Through the years, I have identified eight objectives that wise managers consider when they sponsor team-building initiatives.
Bond team members.
The most common objective of team building is team bonding. Companies bring people together to an offsite retreat to build camaraderie. We know it is difficult for people to work together if they don't know, like, and trust each other. It is easy to make people "like each other" in team building by showing that they are alike each other.
I say that bond building is all about trust building. Trust is the glue that binds team members to each other.
But aside from this common objective, you can consider seven other objectives when you talk to your favorite team-building facilitators.
Build loyalty.
Filipinos value loyalty and commitment. Our first loyalty is to our family. And for this reason, we encourage employees to consider their co-workers as family. Loyalty means we must first consider what's great for the company.
Loyalty is seldom the focus of many team-building games. Probably because these games are what many facilitators find on Google. Unfortunately, most websites on team building are US-made. The challenge for team leaders and facilitators is to find activities that promote loyalty.
Develop a culture of loyalty in teams.
When speakers cannot find appropriate activities, they opt to "lecture" about loyalty. If you can find team-building games and activities that help crystalize the benefits of loyalty, you solve the most common challenge of team leaders.
Clarify shared future.
Many activities can help team leaders highlight the importance of shared vision. One of my favorites is Wouldn't It Be Great because it allows teams to capture their shared vision through drawings and conversation.
Competitive games do not meet this objective. As you know, team games aim to find one champion among many losers. On the other hand, team-building games aim to encourage collaboration and learning. Therefore, if your team-building facilitator can only offer competitive games, you will miss the opportunity to clarify the shared future.
Strengthen culture.
Team building is an effective tool to strengthen corporate values and beliefs. Your culture explains why people value teamwork, collaboration, communication, accountability, and others.
Your culture sets the climate, and team building is the best opportunity to highlight your corporate beliefs.
Unconsciously, all of us hold a hierarchy of values. Most workplace conflicts happen when there are clashes in values.
Teams may cultivate values through agreements. You can offer team building exercises that allow team members to clarify what they desire each team member to practice while working together.
Two activities that I use are Team Chartering and Values to Action. Both are powerful tools that help team members initiate discussion on team culture.
Align goals.
Go for goals, not just games. As much as you want team members to have fun during your team-building activities, the more important objective for them to achieve their goals.
You can pick activities that will encourage members to align their daily actions to the team's and the organization's overall goals. For example, you can use games that will make members more responsive to the organization's needs.
To highlight the importance of goal alignment, I choose activities that make members realize their capability to improve their performance. They can find ways to do things faster and better.
Encourage communication.
Will you be surprised if I tell you that most teams fail because they do not communicate? It has nothing to do with their ability to explain themselves. Most often, failure in communication happens because of mistrust and ego.
Collaborate games provide opportunities to see the value of team communication. I collected games that help members understand the importance of cooperative, interpersonal, and assertive communication.
Through games, participants discover practical ways to communicate. But, more importantly, they become more intentional in the way they relate with each other.
Mine conflict.
It is common for members to avoid conflict. This is understandable. Many of us do not know how to handle conflict. Some are aggressive. Others are passive.
Besides, Filipinos value pakikisama.
When something is wrong in the organization, we choose not to talk about it. We don't want to offend people. We have to keep harmony.
But we often get fake harmony.
Conflict is necessary. Conflict is important if we want our team to succeed. We have to mind conflict to prepare ourselves for bigger problems. We have to mind conflict so we can become creative and innovative.
The secret of successful team building is not conflict avoidance.
Team building games can help teams understand the importance of resolving and managing conflict.
You can also make team members realize they can turn conflict into collaboration with the right mindset.
But there is an equally important objective. Mine conflict. Conflict offers opportunities for innovation.
Build teamwork skills.
Teamwork is a combination of attitude and skills. Team building is a learning experience that may help members develop the skills they need to perform at their best.
Not all team-building games encourage teamwork.
If the games you play rely on individual strengths and do not make the team work together, you are not encouraging teamwork.
Find more ways to build teamwork skills at Team Bayanihan.
Most team-building initiatives fail because they don't serve a purpose other than playing outdoor games. Conversely, successful team building is purpose-driven.
Practice problem solving skills.
Teams are created to solve problems and make the most of business opportunities. But in order for the team to become effective, each must learn how to solve problems together.
Many team decisions are delegated to top management.
When team members do not know how to solve problems, they tend to escalate even small issues. Some hide problems when they come because members don't want to be blamed.
You know what happens when problems are ignored.
The best way to learn how to solve problems is through experience. Team building provides this experience in a safe, friendly, and learning environment.
Ana avoids problems. She thinks that any problem that her staff creates reflects her ability as a supervisor. Problems stressed her out. Successful supervisors are effective problem solvers. And you can learn to solve problems systematically.
Make quality decisions.
Using appropriate team-building exercises, you can help teams learn how to make quality decisions. They learn how to follow a step-by-step process that can help them come up with accurate and effective decisions.
Most team building activities encourage participants to consider options and cut off the less important ones. Most activities only require teams to choose the best solution to challenges.
But they hesitate.
Team building is a great opportunity to provide participants the opportunity to practice making decisions together.
This may require you, the facilitator, to teach the team an effective decision-making process. Observe them. Then, help them process their learning.
Even a simple activity like Tower Building can teach a team a lot about decision-making.
You may also bring to your organization this course on decision-making.
Good decision-makers are effective leaders. They think fast and do not hesitate to take action. Every organization needs decision-makers who can help organizations thrive in good times and bad. For this reason, organizations provide leaders with deliberate training in effective decision-making. If you want to …
Build commitments.
One of my favorite programs is Five Star Teamwork. This is a foundational program that can help companies build five team commitments.
The first is a commitment to each other. It is important for every member to know, respect, and trust each other.
The second is a commitment to the mission and vision of the organization. I talked about culture and goal alignment above. Every team member must understand the reason why the organization exists.
The third is a commitment to the customer, the lifeblood of the organization. Have you noticed that many team-building programs do not talk about how the team can serve the customer? This is a mistake. Trust me, you can design activities that make your teams fall in love with the customers.
The commitment to resolve conflict. I have mentioned that conflict is important to the success of the team. But more important than conflict is the commitment to resolve it. You have to make this very clear.
The commitment to excellence. It is said that the devil is in the details. Team members will never cut corners. You will always give what's best.
Promote accountability.
There is team accountability when members own the problems, find solutions, and make things happen.
In team building, you can teach people the importance of accountability and a sense of ownership.
You can teach them how to change their mindsets about the roles they play. You can even show them how to change their questions so they can change their results.
You've read the twelve objectives of team building. Knowing these objectives can help you plan and run a memorable, fun, and high-impact team-building program.
When you need help in designing your next team-building experience, use the contact form below. Let us explore opportunities to help your team succeed.
FAQs
When you need the help of professional team-building facilitators, reach out to me and I will help you.