Procrastination is a silent dream killer. It steals from you, without your notice, your big and most important goals. Don't let opportunities slip away. Act now and achieve your biggest goals.
Procrastination, if unchecked, turns into "Mamaya na" or Mañana Habit. It will bound you and I to a life of mediocrity, shame, and guilt. If we don't stop procrastination, we will be sabotaging our success. But if we will act on it, we will be free.
Procrastination is a very misunderstood topic. Very few people who procrastinate think that they are procrastinators, which is not a bad thing.
What is procrastination?
Procrastination is putting up until tomorrow the important things or difficult work we can do today. Our brains make us avoid what's difficult or painful to do, so it finds excuses by making us do things which are easy or pleasurable. Procrastination is our flight mode. It is an instinct which when left unchecked turns into a destructive and unproductive habit.
You can replace a bad habit with good. You can turn a good habit into discipline. Good habits and discipline are cures to procrastination.
Filipinos are very much familiar with Mañana or Mamaya Na Habit. When we were children, many of us have told our parents that we would do our chores "mamaya na" or later. Procrastination is part of our growing up. Unfortunately, many of us still procrastinate now that we are professionals.
I started my research about procrastination because I procrastinated a lot about things.
For example, it took me 30 years before I started writing my first book. Yet, I finished writing that book in 15 days. Yes, I finished in 15 days what I failed to begin for 30 years. That experience of writing a book showed me the impact of procrastination on my happiness.
But I still procrastinate. Most people do, occasionally.
I wished I had learned in school how to let go of procrastination.
Very few of us identify themselves as a procrastinator. But most of us, if not all, are occasional procrastinators. I want to help.
I created courses, workshops, and webinars to serve as valuable resources to leaders.
Procrastination delay us.
In 2004, I joined a Toastmasters club whose members meet every Monday evening.
It was a common experience for us to delay preparing for the speech until Monday morning. Speakers are assigned their roles right after the meeting. We start thinking about our topics by next Tuesday morning.
Finding a good topic takes time. Most of us cannot start writing a speech if we are not sure of the subject. Yes, we must write the speech and rehearse it. Then, we must perform.
The stress grows as the following Monday approaches. Some of the speakers, due to pressure, invent excuses for not joining the meeting. We felt guilty and embarrassed.
It was an experience that I hated for three years that I was a member of the club.
I had many good memories with Toastmasters. But I understand how stressful it was to think and prepare a seven-minute speech for seven days.
I am sharing this experience to make a point. Procrastination is beyond laziness. I doubt if any one of us is lazy. We are achievers. But even achievers procrastinate.
Because we all procrastinate, our lizard brain is one of the culprits.
Procrastination can be defined as delaying a project, a task, or a course of action despite knowing the negative consequences of the delay. Most of us felt guilt or shame when we procrastinate. We blame ourselves for not doing what must be done.
Procrastination in Tagalog
Filipinos have a way of describing procrastination. We call it "Mamaya Na Habit." Mamaya na is a Tagalog phrase that means later.
The expressions used are
Procrastination sa Tagalog
Ang mga katagang mamaya na, bukas na, at saka na ay mga nagpapahayag ng pagpapaliban. Ang ibig sabihin ng procrastination ay pagpapaliban.
Karaniwan, kapag inuutusan ang mga anak, ang madalas na sagot ay mamaya na. At walang katapusan ang mamaya na. Mamaya na ang pinakasikat na kasing-kahulugan ng procrastination.
Ang salitang bukas na ang pinakamalapit sa pinanggalingang salita sa Latin. Katulad ng mamaya na, hindi rin nauubos ang bukas na.
May kasabihan sa wikang Filipino na nagsasabing, "wag na ipagpabukas ang maaring gawin ngayon."
Ang salitang saka na ay hindi mamaya na o bukas na. Wala itong tiyak na oras o araw.
Ang taong mahilig magpaliban ng gawain ay hindi tinatawag na mapagpaliban. Ang karaniwang tawag sa kanila ay tamad.
Gayunpaman, hindi lahat ng procrastinator ay tamad.
Mamaya na, bukas na, and saka na are three phrases used to express the intention to delay actions.
Typically, when parents asked their children to do chores, kids answer mamaya na. This means that they'll do things later. But later does not become now. Mamaya na is the most popular translation for procrastination.
The phrase bukas na is the closest translation to Latin origin. Bukas na means tomorrow (morning). Bukas na is always the next day.
There is a Filipino saying that goes, "don't put off until tomorrow what you can do today."
The phrase saka na has no specific hour or date. It may mean that things might be done some other time.
People who keep putting off things are not called procrastinators in the Philippines. They are considered lazy.
But as you will learn in this guide, not all procrastinators are lazy.
---
Don't Turn Mañana Into a Habit
Mamaya Na Habit is Mañana Habit. Mañana is a Spanish word that means tomorrow or later. Many people get used to putting off until later what can be done now.
That's because whatever they are doing is less challenging or more desirable. So, for example, no one will watch them washing dishes, but friends will love to see their Tiktok videos.
Mañana habit steals the chances to live a better life. It is a bad habit. It does not help us grow and make the most of our time.
When one looks into Filipino values, we do not encourage Mamaya Na Habit. Early in life, I learned that "Daig ng maagap ang masipag".
We encourage early risers. We tell our people that we should fix the roof before the storm comes. We admire those with kusang-palo (initiative).
Procrastination, like all bad habits, can be replaced with good habits. We only need to replace Mamaya Na (later) with Ngayon Na (do it now).
Procrastination and Ningas Cogon
Procrastination and Ningas Cogon are not exactly the opposite of each other, but many Filipinos think so.
Most procrastinators finish their work – at the last minute. They do so by cramming. Then, a day before the day of submission, they summon all their energy to finishing everything. You cram when you are afraid.
Often, we refer to how our government officials work as ningas cogon. They promote a project with full enthusiasm, only to stop working on it very soon. They don't finish anything.
Is Ningas Cogon bad?
Not entirely. We need enthusiasm when starting a project. You will find this enthusiasm among entrepreneurs. They are sold to their ideas until they face an unbreakable wall.
Entrepreneurs move from one business idea to another. You may call that Ningas Cogon. Or you may call it pivoting.
Cramming is based on fear. Ningas Cogon is on dreams. Those who cram lacks motivation. Those who show ningas-cogon lacks mental toughness and ability.
You can learn how to stop procrastination, and you can sustain the enthusiasm of Ningas Cogon.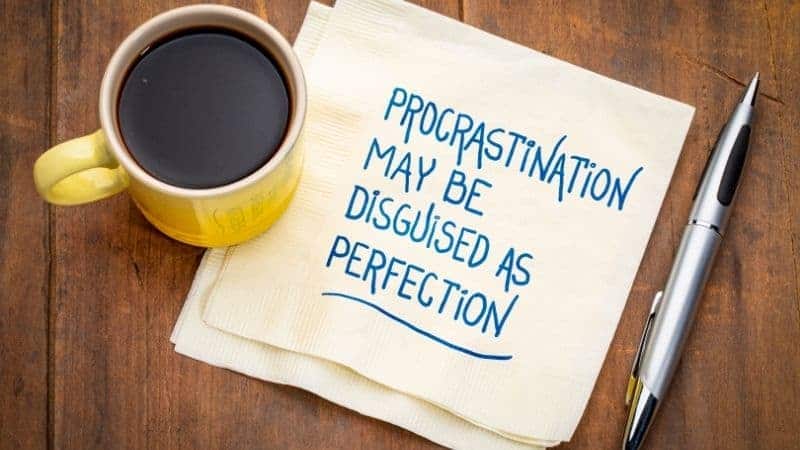 Procrastination and Perfectionism
When I was in high school, I learned about the perils of perfectionism. In Florante and Laura, Francisco Balagtas described a character who kept on redoing his work to make it perfect. As a result, he never finished the work.
It made a vivid impression on me.
When I was in grade school, I spent days working on school projects that I could do in an hour. There are times that I won't start working until I got a perfect idea. It was not laziness.
But I did not learn the lesson.
When I entered the seminary, there were times that I failed to submit school requirements on time. It was not for the lack of effort. It was because I wanted things to be perfect.
But later, I realized perfectionism isn't helping me at all. My obsession for perfection was misplaced. Instead, I wanted people to recognize what I am capable of doing. In the process, I neglected more essential areas in my life.
Awareness is important.
If one understands the purpose of a project or activity, it becomes easier to do. So, instead of trying to achieve perfection, I paid attention to results.
Is it wrong to aim for perfection?
It is okay to aim for perfection. But we have to understand that perfection means many things to many people. Our dictionaries define perfection to be without faults or defects.
Today, I aim for excellence and mastery. But even excellence is vague. So, I decided I do not have to wait until everything is ready.
What works for me is to start something at once. So I aim to learn or make something better. Either way, I won't have to wait until I become perfect, for I do not know how it looks.
---
Resources
After a long read, you may still need to learn more about how to make small changes in your life so you can achieve greater things. Please find below all the other resources available to you for free.
Watch
Watch the following videos. You may find stories that resonate with yours.
Inside the Mind of Master Procrastinator. If procrastination does not make sense to you, you are with the same mind as Tim Urban. This is a witty presentation of the topic.
How to Stop Procrastinating. Here is an excellent explainer on procrastination. You will also discover three steps that you can start with.
Read
Explore the following articles and posts. I am sure you will get clues on how to stop procrastination. There is no one formula for everything procrastination as you are unique. But you'll surely get something from others.
Start Before You Are Ready. Many of us procrastinate because we feel we are not ready. Here, I am telling you my experience when I finished writing a book in 14 days. It was liberating.
Stop Wishing and Start Winning. Production is key to progress. Here are six actions you can make to start winning.
Why You Procrastinate? (It has nothing to do with self-control). New York Times published an extensive article on procrastination. You can go to the bottom of the page so you can explore the healthier ways to manage your feelings about procrastination.
Kickstart Yourself. The pre-performance routine helped me build momentum. Find out how you can kick-start yourself.
How to Break the Manana Habit. Pia Bernaldo shared some techniques on how to handle procrastination. You may find some of her ideas useful. I tried Pomodoro ten years ago. I could not maintain it. But I think it is worth trying.