Are you looking for famous public speakers in the Philippines? You will find some of them here. We have thousands of great speakers in this country. You will see some of them in churches, MLM events, and industry conferences. And there are those who do not even market themselves as speakers but are excellent ones.
From leadership and motivation to entrepreneurship, personal development, and entertainment, these individuals have carved a niche for themselves in the world of public speaking, inspiring countless individuals to transform their lives and reach new heights.
I have a funny story about who I thought were famous Filipino public speakers. Some of them are on this list. Many of them are unknown in many parts of the country.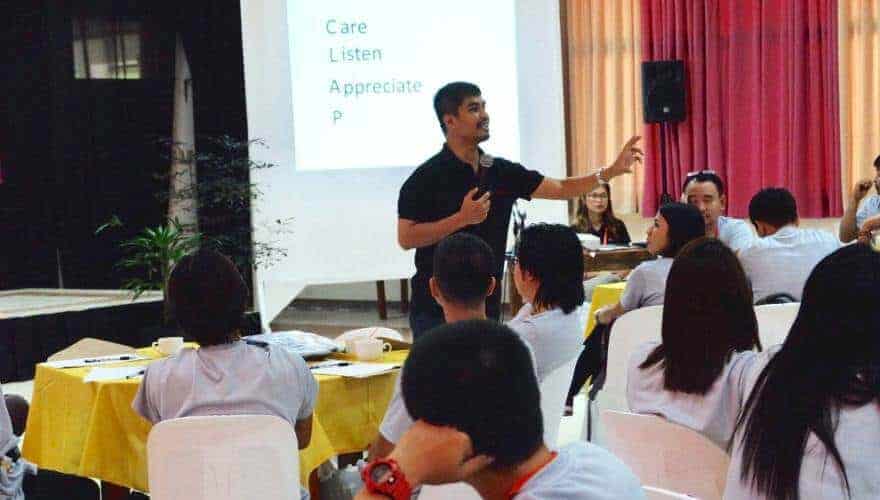 Also, I give speeches all around the Philippines, and I have met many great speakers who are not yet famous. I will help them become known someday using this website.
But for today, I have here the list of famous public speakers and what you can learn from them. You can find their videos online. And some of them have websites too.
13 Filipino Public Speakers
Having a Filipino public speaker at your next event makes a big difference. Why? Because they know the local culture and stories.
Filipino speakers connect better with Filipino audiences. They share the same jokes, understand local issues, and speak the same language. When they talk, it feels familiar and close to home.
Lastly, when you choose a Filipino speaker, you support local talent. It's like cheering for our own team. These 12 speakers have stories that reflect our own, and they can inspire us in ways others might not.
Jef Menguin
Jef Menguin is a trusted keynote speaker and workshop facilitator, acclaimed for his transformative approaches to nurturing leadership, enhancing teamwork, and propelling business success. Rooted in three foundational principles – a growth mindset, robust leadership skills, and resilience – his speeches and workshops are designed to empower leaders at all levels.
Jef's own journey is a remarkable tale of passion, persistence, and resilience. At just 9 years old, he took on the responsibility of helping his family make ends meet, embarking on a series of jobs from selling pan de sal (bread rolls) before dawn, to working as a basurero (scavenger), a newspaper boy, a takatak boy (cigaretter vendor), and a candle peddler. These early experiences not only taught him the importance of supporting his family but also enabled him to fund his own education through to college.
His mission is twofold: to ignite creative confidence and to unlock the potential hidden within leaders. This involves fostering decisive and effective leadership, advancing collaborative success, and guiding strategic and proactive development.
After a decade-long teaching career, Jef transitioned into professional speaking and corporate training in 2006. Leveraging his educational expertise, he crafts impactful learning experiences for organizations, designed to yield 10x results with minimal time and effort. His workshops focus on high-impact projects that arm CEOs, managers, and supervisors with the necessary skills and strategies to excel.
Besides speaking and training, Jef also shares his insights through writing. He curates a blog, "Zero to Hero," which offers actionable advice on leadership, teamwork, personal development, and business. Additionally, he produces email courses, newsletters, and is in the process of writing books to extend his reach further.
Throughout the years, Jef has empowered thousands of leaders across the Philippines and conducted training sessions in various Asian countries, including Malaysia, Indonesia, Thailand, Taiwan, and Singapore. His impressive client list features influential organizations such as World Vision, the World Bank, Asian Development Bank, the US Embassy in Manila, the Canadian Embassy in Manila, Meralco, Chevron, and GMA Kapuso Foundation.
As the CEO of Strategic Learning Consultants, Inc., Jef and his team offer tailor-made learning programs and intelligent strategies designed to keep you and your team competitive and ahead of the curve.
Every time Jef steps onto the podium, he is acutely aware of the significance of the moment, knowing that he may have a singular opportunity to transform lives. Firmly believing that everyone possesses the capability to be their best, Jef Menguin is a steadfast advocate for personal and professional growth.
Francis Kong
Francis Kong is a highly regarded speaker, entrepreneur, and author known for his expertise in business, sales, and personal development.
Through his energetic and thought-provoking presentations, Francis motivates individuals to embrace a growth mindset, excel in their careers, and achieve personal success.
His speech topics range from leadership and entrepreneurship to customer service and work-life balance. With a captivating stage presence and practical advice, Francis Kong has become one of the most sought-after speakers in the Philippines.
To explore Francis Kong's impactful speeches and insightful writings, visit his website: www.franciskong.com.
Bo Sanchez
Bo Sanchez is a renowned spiritual speaker, author, and entrepreneur, known for his uplifting and inspirational messages.
With a focus on personal growth, financial literacy, and spiritual well-being, Bo Sanchez empowers individuals to live a life of abundance and fulfillment.
His speeches touch on topics such as finding purpose, cultivating a positive mindset, and achieving financial freedom.
Bo Sanchez's engaging and relatable style connects deeply with his audiences, inspiring them to embrace their spirituality and pursue holistic success.
To explore Bo Sanchez's impactful speeches and insightful books, visit his website: www.bosanchez.ph.
Lea Salonga
Lea Salonga, a globally acclaimed Filipina singer, and actress, has not only mesmerized audiences with her remarkable performances but has also inspired millions through her motivational speeches.
With topics such as resilience, pursuing one's dreams, and embracing authenticity, Lea shares her personal journey and encourages individuals to unleash their creativity and passion.
As a role model for aspiring artists and performers, Lea Salonga's words resonate deeply and provide a guiding light for those seeking inspiration.
To learn more about Lea Salonga's impactful speeches and artistic endeavors, visit her website: www.leasalonga.com.
Vida Santos-Arciaga
Vida Santos-Arciaga is truly an inspiring figure, with a multi-faceted career and a commitment to giving back to the community. Her journey from a sampaguita girl, which refers to girls who sell sampaguita flowers (the national flower of the Philippines) often seen in the streets, to becoming a successful human resources consultant, life coach, and artist is nothing short of remarkable.
As a cancer survivor, she has a unique perspective on life and its challenges, which she shares with others to inspire them to live meaningfully and happily by finding their purpose. Her dedication to education as a means to rise from extreme poverty is a powerful message that resonates with many, particularly in the Philippines where poverty remains a significant issue.
Her work as a human resources consultant reflects her deep understanding of the challenges faced by Filipinos, especially in the countryside. With over 30 years of experience in various industries, she has developed a reputation as a problem-solver, a "bridger," and an employability champion, helping to connect people with the opportunities they need to succeed.
Moreover, Vida's promotion of emotional intelligence as a key to personal and organizational success is incredibly important in today's world, where soft skills are often as valued as technical skills. Her holistic approach to success, which encompasses not only professional achievement but also personal fulfillment and giving back to the community, is truly commendable.
As a writer, life coach, teacher, mentor, and artist, Vida wears many hats, all of which contribute to her mission of helping others. Her decision to devote the proceeds of her artworks to cancer patients is a testament to her generosity and commitment to giving back.
Additionally, her advocacy for women empowerment and social justice is crucial in a world where gender inequality and social injustices still persist. Being recognized as one among the top 100 Filipino Women on LinkedIn in 2022 and 2023 is a well-deserved honor that highlights her impact and influence in these areas.
Overall, Vida Santos-Arciaga's story is one of resilience, dedication, and a deep commitment to making a positive impact in the world. Whether it is through her work as a human resources consultant, her advocacy for women empowerment and social justice, or her support for cancer patients, she is making a difference in the lives of many and serves as a role model for others to follow.
Contact:
vsarciaga@hotmail.com
09178730004
Karen Davila
Karen Davila, an award-winning broadcast journalist and influential speaker, combines her media expertise with insightful speeches on leadership, media ethics, and personal growth.
With her articulate and passionate delivery, Karen captivates audiences and shares valuable insights gained from her extensive experience in the field of journalism.
Her speech topics often revolve around the power of storytelling, the importance of ethical journalism, and the pursuit of truth.
Karen Davila's impactful speaking engagements have earned her recognition as one of the most influential media personalities in the Philippines.
To learn more about Karen Davila and her speaking engagements, visit her Inspire Leadership.
Jayson Lo
Jayson Lo is a sought-after motivational speaker, author, and sales trainer who empowers individuals to unlock their potential and achieve success.
With his dynamic and interactive presentations, Jayson instills valuable life lessons and practical strategies for personal and professional growth.
His speech topics include leadership, salesmanship, and the power of mindset. Jayson Lo's engaging speaking style, combined with his relatable anecdotes and actionable advice, has made him a favorite speaker among corporations, organizations, and educational institutions.
To discover more about Jayson Lo's motivational speeches and inspiring books, visit his website: www.jaysonlo.com.
Ardy Roberto
Ardy Roberto is an inspirational speaker and author who captivates audiences with his powerful messages of faith, family, and personal transformation.
With a focus on love, resilience, and finding meaning in life, Ardy inspires individuals to prioritize their relationships and live with purpose.
His speech topics encompass personal growth, marriage, parenting, and overcoming challenges. Ardy Roberto's impactful speaking engagements, combined with his bestselling books, have touched the lives of many Filipinos, providing them with hope, guidance, and a renewed sense of purpose.
To explore Ardy Roberto's inspiring speeches and transformative writings, visit his website: www.ardyroberto.com.
Michael Angelo Lobrin
Michael Angelo Lobrin is an inspirational speaker and comedian who combines the power of laughter, storytelling, and motivational messages.
Michael Angelo inspires audiences to embrace self-expression, resilience, and the transformative power of storytelling.
His speech topics often revolve around personal growth, mental health, and inspiring positive change. Michael Angelo Lobrin's unique blend of comedy and motivational speaking has garnered him recognition and admiration, making him a standout figure in the Philippine speaking scene.
To explore Michael Angelo Lobrin's impactful speeches and captivating performances, visit his FB page.
Marianne Mencias
Marianne Mencias is a passionate advocate for women's empowerment and a sought-after speaker who inspires women to embrace their strengths, overcome obstacles, and achieve their goals.
Through her empowering speeches, Marianne addresses topics such as self-confidence, work-life balance, and personal fulfillment.
She shares her own journey and provides practical strategies to help women navigate challenges and thrive in their personal and professional lives.
Marianne Mencias' impactful speaking engagements and coaching programs have empowered numerous women in the Philippines to embrace their potential and create a life of purpose and fulfillment.
To learn more about Marianne Mencias and her empowering speeches, visit her website: mariannemencias.com.
Chinkee Tan
Chinkee Tan is a respected wealth coach, motivational speaker, and author who specializes in financial literacy, personal development, and entrepreneurship.
Through his dynamic presentations, Chinkee provides practical strategies and insights to help individuals achieve financial freedom, develop positive money habits, and build successful businesses.
His speech topics encompass financial management, entrepreneurship, and personal growth. Chinkee Tan's influential speaking engagements and bestselling books have empowered countless Filipinos to take control of their finances, create a path toward financial stability, and live a life of abundance.
To learn more about Chinkee Tan's impactful speeches and wealth-building resources, visit his website: www.chinkeetan.com.
Rose Fres Fausto
Rose Fres Fausto is a personal finance speaker and advocate who educates individuals on the importance of financial literacy and responsible money management.
Through her speeches, Rose provides practical tips and strategies for budgeting, investing, and achieving financial independence.
Her topics include financial planning, wealth creation, and raising financially responsible children.
Rose Fres Fausto's impactful speeches help individuals gain control over their finances, make informed financial decisions, and work towards a secure financial future.
RJ Ledesma
RJ Ledesma is a renowned humorist, author, and motivational speaker who combines humor and motivation to inspire audiences.
Through his speeches, RJ delivers uplifting messages while entertaining the crowd with his wit and comedic timing.
His topics range from personal development and resilience to entrepreneurship and work-life balance.
RJ Ledesma's unique style of blending humor with motivational insights creates a memorable and engaging experience for his audience, leaving them inspired and motivated to achieve their goals.
Why Choose Filipino Speakers
When it comes to finding the perfect public speaker for your event, conference, or company gathering, the options are plentiful. However, if you're looking for a unique blend of talent, passion, and cultural perspective, Filipino speakers should definitely be on your radar.
Here are five compelling reasons why you should consider hiring public speakers from the Philippines.
1. Exceptional Communication Skills
Filipinos are renowned for their excellent command of the English language, which is one of the official languages of the Philippines. This linguistic ability makes Filipino speakers easily relatable and understood by a global audience. Their proficiency in English, coupled with their natural flair for storytelling, enables them to convey complex ideas in a clear and engaging manner.
2. Cultural Diversity and Inclusivity
The Philippines is a melting pot of various cultures, heavily influenced by Malay, Chinese, Spanish, and American traditions. This multicultural background allows Filipino speakers to bring a diverse and inclusive perspective to the table. They can easily connect with people from different walks of life, making them particularly effective at speaking on topics that require a nuanced approach.
3. Passion and Emotional Resonance
Filipinos are often noted for their passion and emotional intelligence. Whether the topic is technology, business, or social issues, you can expect a Filipino speaker to bring a level of enthusiasm and emotional depth that is truly engaging. This ability to connect emotionally with the audience can leave a lasting impact and provoke meaningful discussion.
4. High Adaptability and Versatility
Filipinos are generally adaptable and versatile, qualities which extend to their public speaking skills. Whether you need a motivational speaker, a business strategist, or a technology guru, there's likely a Filipino speaker who fits the bill. Their wide range of expertise and ability to adjust their message for various audiences make them a smart choice for any event.
5. Cost-Effective
Last but not least, Filipino speakers often offer competitive rates without compromising the quality of their delivery. This makes them a cost-effective choice, particularly for companies that are looking to maximize the value of their investment in a public speaking engagement.
Choosing a Filipino speaker can bring a wealth of advantages to your event or company. Their unique blend of excellent communication skills, cultural diversity, passion, adaptability, and cost-effectiveness makes them a compelling choice for a variety of speaking engagements.
Next Step
Filipino speakers offer a unique and valuable perspective that can enrich your event and engage your audience in meaningful ways.
Whether you're organizing a corporate event, a conference, or a motivational seminar, consider the many benefits of choosing a Filipino speaker.
Now, I'd love to hear from you!
Do you have a favorite Filipino speaker that you'd recommend? Are there any experiences or stories about Filipino speakers that you'd like to share? Do you have any questions or thoughts on this topic?
Please feel free to share your recommendations, ask questions, and tell your stories in the comments below. I am always looking to expand my list of exceptional Filipino speakers, and your input is invaluable.
Together, we can celebrate and support the talented individuals who represent the Philippines on the global stage.