A New Year's Resolution is a Filipino tradition. Or at least, that's how Filipino students deemed it. Every January of each year, on the first day of class, students from elementary, high school, and college declare their New Year's resolutions.
When I was in high school, I wrote my New Year's Resolution essays (as it was often required) during Christmas breaks. It is still cool to write resolutions these days for fun.
I do Impact Goals, Quarterly Goals, and Monthly Projects, which are better than most New Year's Resolutions. I will share these with you later if you are interested. An excellent support to your New Year's resolutions is 3 Words. Find out how to do it.
I am publishing this three days before the New Year. So you will have plenty of time to write your New Year's Resolution or do the alternatives.
New Year's Resolution Ideas
Typically, people get a pen and a piece of paper to write one, two, three, or even ten New Year's resolutions. They write down whatever comes to mind.
A few get post-it notes and Sharpie pens. They write on each note one resolution. They may come up with dozens. Then, they pick the top ten they want to do next year.
I separate my New Year's resolutions for family and work.
I use a mind map when I make resolutions. It is creative. I write the year, then encircle it. I think of three words. For work, my three words for 2023 are transformation, experience, and dollars. Then, I will generate more ideas from each word.
Another exercise that I do, which I can do any month of the year, is Stop, Continue, and Start.
Most people consider the brainstorming session as the only step to writing a resolution. This is why most of the resolutions don't have staying power. Later, I will show you ways to make your resolutions compelling.
If you are looking for New Year's Resolution ideas, these will help you. Open each accordion pane to find resolutions that may inspire you
What is a New Year's Resolution?
A New Year's Resolution is a declaration of what a person intends or resolves to do at the beginning of the year. Typically, people decide to stop doing undesirable traits or behaviors, continue doing good practices, and start working on personal goals or improving behaviors.
When you ask Filipinos, more than half will say they have New Year's Resolution. About 1/3 say that they have written resolutions. You will find 100 examples of New Year's Resolutions below.
Nearly half of those who don't make New Year's Resolution say it does not work.
Importance of New Year's Resolution
Most people think that they need to do more these past years. The Covid-19 pandemic, for two years, made us anxious about the future. I remember that the New Year of 2021 was the first time most people stayed home. In January 2022, we recorded the highest number of Covid-19 infections.
But 2023 promises a better year. And once again, people talk about New Year's Resolutions. And that's good news.
There are mixed opinions as to the importance of resolutions. And I understand why.
Some people failed to continue what they started. Or they missed many opportunities of doing what they believed they should have done many New Year's resolutions ago.
In 1996, Carlo declared that he would enroll again to finish his Master of Arts in Teaching. It was always a part of his New Year's Resolutions. This year, he decided that pursuing it was of no use. The 30 units he earned will no longer be credited. He procrastinated. And procrastination sealed his fate, he believed.
A friend made a New Year's Resolution to start jogging five years ago. So on January 4 last year, she started jogging around our neighborhood. She continued doing it for 15 more days. Then, she decided to pause for a week because of an important assignment. The one week became months. Yesterday, she said that she'd start again.
Thirty years ago, I "resolved" to write a book. I began with full enthusiasm, then eventually stopped. In Filipino, we call this habit Ningas Kugon. However, a friend commissioned me two years ago to write a book. I wrote that book in 16 days. I am confident I can write at least one book in 2023.
All new year's resolutions are aspirations for personal growth and development. And though you don't have to wait for January 1 to start thinking about choosing the right things to do, a New Year's resolution, as a tradition, reminds us about second chances, and the simple act of declaring our intentions help us think deeply about the future.
Panata sa Bagong Taon
For Filipinos, a new year is a promise of a new life. It is more than just a day after December 31.
It is a fresh start.
In Filipino, New Year's Resolution means panata sa bagong taon. It is not just an aspiration or a wish. It is a vow.
It is a fresh start. Whatever happened last year and the years before that have no hold on our future. We can choose to live the life we want.
Most New Year's Resolutions aren't fulfilled because of misunderstandings. But we will start behaving differently when we fully embrace that a new year is a fresh start and a resolution is a vow.
Why New Year's Resolutions Don't Work
I have already given you three reasons why New Resolutions don't work. And I have also given you an idea of why it works. So allow me to expound and expand.
Procrastination
The lack of willpower makes us delay. Procrastination is a silent killer. It murders our dreams without our notice.
People think that there is always tomorrow. We only have today; tomorrow is not promised to anyone.
If something is significant, it must be done today.
A resolution is a vow; it is not just a wish. A wish is something that may happen someday. A vow is your business today.
Ningas Kugon
Have you noticed that lifetime gym memberships are sold for a 50 percent discount during December and January? That's because many people overestimate themselves.
A lifetime gym membership often gets used in three months.
If you are in Quezon Memorial Circle in the early mornings, you will see thousands of joggers. Some of them start at 5 am. But, during the first six weeks of the year, you'll notice that the numbers are five times more than usual.
Ningas kugon is a lot better than procrastination. Starting something is already tricky. But success is measured by how we finished, not by how we started our games.
Ningas Kugon is often the result of a lack of commitment, discipline, and momentum.
Lack of Commitment
A committed person dedicates his time to a cause that truly matters to him. Those who cannot commit fails again and again.
A committed person displays patience, persistence, and perseverance. You can only be that person when you believe you can make things happen. Without that belief, there is no urgency. Without that belief, you will allow your fear to delay or stop you as soon as you face your first challenge.
Consider that a resolution is a vow to your future self.
Lack of Discipline
I see that even the most motivated people need to honor their resolutions. They can start, but they need to learn how to finish.
They work on many things but only sometimes on the most important thing.
A person with discipline does what they value most every day. They don't allow their circumstances to dictate their actions.
New Year's resolutions are good for us. They are part of the solution. Unfortunately, they don't work when people don't have the discipline to execute them.
Lack of Momentum
People need more momentum to finish what they start. There needs to be more than just doing the first step to walking a thousand miles. You need to follow the first with another step, and you need to keep moving until you reach a thousand miles.
Followthrough makes a breakthrough.
To create momentum, you need focus, consistency, and action.
By telling you why resolutions often do not work, can you tell how to make them work?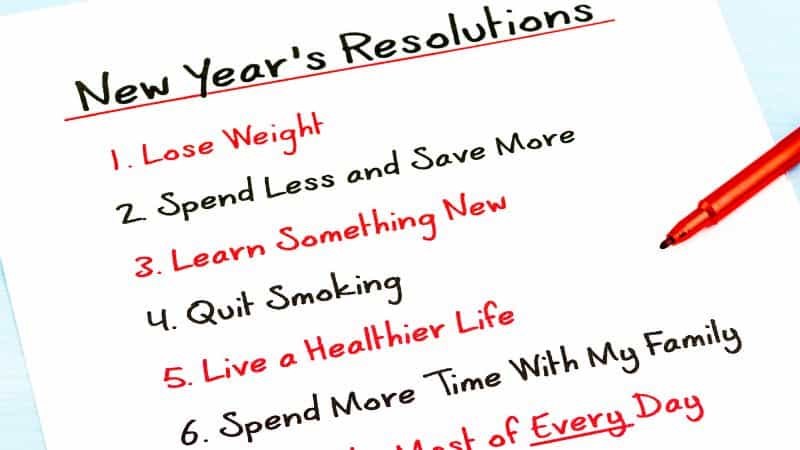 People often write these New Year's Resolution ideas. As I have mentioned, I used different methods to come up with my list, and brainstorming is just the first stage. If you will only copy any of these resolutions, it is more likely that you'll do a ningas kugon.
Resolutions that get done are clear and compelling.
I will show you different ways to write clear and compelling New Year's Resolutions.
Questions
These are the frequently asked questions that seldom get answers. If you want to get a better appreciation of these answers, you can read the whole article (if you have not yet done that).
New Year's Resolution Essay (Example)
As I have said, when I was in school, we were required to write our New Year's Resolution essays in 200 words. I typically write more than that.
One way to write an essay is by using CONTINUE, STOP, and START. It is a very simple format that you anyone can follow.
The Year 2023 is a promise of a fresh start and bouncing forward. The last two years have been difficult because I could not go out. I was afraid, physically and psychologically.
The pandemic scare is not yet over. New variants of the virus appear. But for most of us vaccinated, there is confidence that we can finally fight the unknown.
There are things I know that I can change. And there are things that I must continue doing. My New Year's Resolution is a manifesto, a declaration of what I want to continue, stop, and start doing in 2023.
CONTINUE
I will continue to improve my skills in public speaking. Though I have been speaking for many years and earning money from it, there are many things that I need to learn. Public speaking turned my life around. And though there are many other opportunities to grow my business, I will continue speaking to inspire people and grow my business.
STOP
I will stop spending time on Facebook, debating political issues with strangers, diehard supporters, and trolls. As much as I wanted to educate people and share with them what I know as a student of politics, I was doing it wrong.
Debating with strangers will not help. Adding my voice to a thousand who do not want to listen to each other won't add value. I am not a follower. I am not a watcher.
I am a leader. And my platform is on the stage. I speak to lead, not just to add my voice.
START
I will expand my network to bring my message to many people. I will speak in schools to share my message with students and educators. I will talk at associations, conferences, and in company assemblies.
I will share a message of hope in my team-building programs, leadership training, and public seminars.
I will start speaking to change the world.
Mission Possible 2023
Your mission is to write your own New Year's Resolution. Keep in mind that it is not just a wish. It is a panata, a vow that you have to your future self.
I recommend that you make your resolution visual. Take it seriously. Convert it into a personal development plan. Execute it. Then, teach others how to do it well.