You and I can bounce forward and thrive. We can win even in these tough times. We can do these when we focus on what works and make use of everything we've got.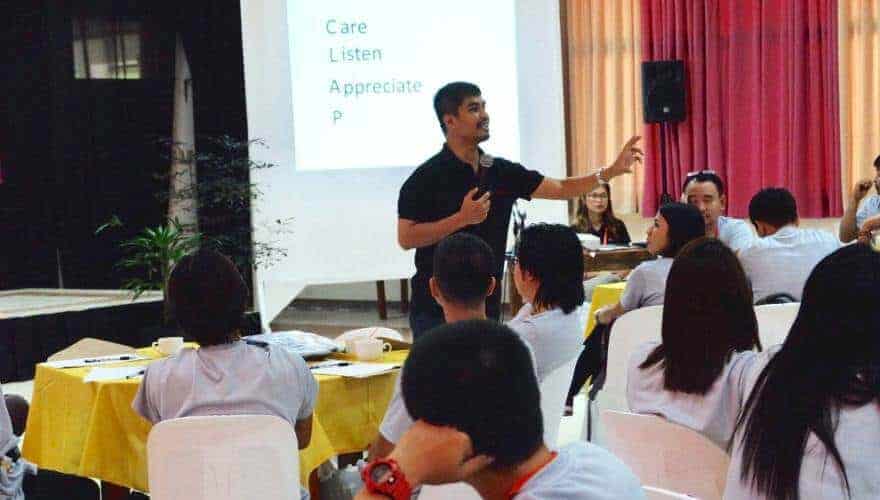 What is a motivational speaker?
A motivational speaker is a person who delivers speeches before an audience to teach, inspire, and encourage people to face their fears, follow their passion, and make their dreams happen. Motivational speakers challenge audiences to let go of excuses brought about by failures. They tell stories of those who achieved greatness against all odds, and they provide steps or formulas to success and move people to action.
People from all walks of life, who have messages that may motivate others, may become motivational speakers.
When I started my motivational speaking career in 2007, I realized that the phrase "motivational speaker" has become an umbrella term for speakers who inspire others to reach their fullest potentials, be of service to others, and make a difference.
However, not all speakers are motivational speakers.
Some are keynote speakers, inspirational speakers, leadership speakers, and subject-matter experts. They have purposes beyond motivating their audiences.
I do keynote speaking. I train leaders. I am a resource speaker on leadership, innovation, and marketing. And part of what I do is to help clarify their motivations (purposes), set goals, and make them happen.
I teach, encourage, and train leaders — and I motivate them too.
The first two jobs of motivational speakers are to encourage you to dream big and make things happen.1 Fulfill these two jobs to 1000x your value.
Topics of Motivational Speakers
Most topics of motivational speakers are about winning and success. I invite you to look into these titles and consider what they are trying to offer.
IT'S TIME TO GET OVER IT! by Les Brown
Magic Johnson: The Magic Of Winning
James Clear: Atomic Habits: How To Get 1% Better Every Day
Jia Jiang: What You Can Learn From 100 Days Of Rejection
J.P. Pawliw-Fry: Performing Under Pressure
James Lawrence: Redefine Impossible
Jade Simmons: Audacity!: Dare To Lead On Purpose
Vishen Lakhiani: Goals And Dreaming Big
Marc Randolph: Netflixed: How A Scrappy Startup Built One Of The World's Best Known Brands.
Shawn Achor: The Happiness Advantage: Linking Positive Brains To Performance
Why We Do What We Do by Tony Robbins
These topics are all about WINNING!
I got into motivational speaking because I was inspired by the following books:
The Greatest Salesman in the World by Og Mandino
The Power of Positive Thinking by Dr. Norman Vincent Peale
It's Not Over, Until I Win: It's Possible by Les Brown
The Magic of Thinking Big by David J. Schwartz
I got inspired by the speeches of Pagsi and Vic Santiago. Two of those whom I considered to be the best motivational speakers in the Philippines.
I listened to great speakers when I was in the seminary. We have trained ourselves how to connect to people and motivate them. But I had no idea that motivational speaking is a lucrative industry.
I have no idea what motivational speakers do before I read Les Brown. It was his experiences that inspired me to start a career in motivational speaking. I had the same struggles too.
In 2004, I envisioned myself becoming the best motivational speaker in the Philippines. It did not happen.
After a year of inspiring thousands, I realized that it is not about me. Motivational speaking works only when it reaches those people who need your message. There is no contest between motivational speakers. We can work together to inspire people and uplift lives.
I want to become a famous motivational speaker too. Visibility and authority can help me reach more people. However, the so-called famous and best motivational speakers, I discovered, are unknown to many Filipinos. Branding oneself a guru or an influencer won't help.
I committed myself to creating and adding value. To become the best motivational speaker in the Philippines is not my goal. I focus on what works and share whatever I have in every way I can.
Motivational Speaker In the Philippines
My career as a motivational speaker in the Philippines started in 2004. Since then, I have delivered thousands of speeches at conferences and events.
I am known for delivering motivational speeches that teach excellent and proven ways to equip better leaders, build teams, wow customers, cultivate corporate values, and achieve personal success. I don't believe in regurgitating ideas. By listening to my customers, I craft and deliver solutions that they need.
I prefer evidence-based examples rather than tear-jerker and cute stories. I am a mentor. I do not attempt to be a comedian on stage because when everyone is having fun while being equipped and inspired, no one is looking for someone to joke about them.
I write books, create courses, record videos, and blog. You will find me enjoying my adventure with my vegetables, herbs, and plants during ordinary days.
The extraordinary days are the times when I am inspiring leaders and motivating people.
Motivational Speaker In Asia
I started speaking outside the Philippines in 2011. I have been to Malaysia, Indonesia, Singapore, Taiwan, and Thailand.
On the other side of the ocean, I found leaders filled with enthusiasm and willingness to learn.
The English language serves our bridge.
Few Filipinos have ventured into international speaking. Though many of them are very much capable and better than I am. I learned this while watching other well-known speakers share their tools and tricks.
In these events, I was able to distinguish myself by sharing actionable strategies and proven ways to boost careers, build leadership, and grow businesses.
When I got invited to train MLM leaders in Thailand, for example, my mission was to make them embrace the mindset of owners. Their business is in joint-venture with product owners. They have to make the work.
Clarifying and simplifying concepts bring a sense of awareness and courage.
Motivational Speeches
An effective motivational speech can help leaders act.
I was first drawn to leadership talks because I had many opportunities to speak as a young leader. In addition, I did more reading on exemplary leaders than any of my subjects when I was in high school.
I got my first training as a public speaker as a seminarian. When I went out of the seminary, I became a youth leader and activist. After that, I became a teacher, trainer, course designer, entrepreneur, and professional speaker. These roles provided me with a rich learning experience in motivating people.
Below are titles and short descriptions of a few motivational speeches I crafted and delivered to encourage leaders to challenge the status quo, start something new, and change the world.
Choose What's Best
You begin with yourself. Know who you are, imagine the best version of yourself, and work hard to become that person every day. We can choose our mindsets, our actions, and our habits. We can design for ourselves the personal discipline that will turn us into the person we desire to follow.
Of course, you can become a leader of thousands and act like a good person. Yes, you can fake authenticity and sincerity. But people will eventually find out. Choose what's best.
Finish What You Start
One challenge that most leaders have is the inability to get things done. Ningas Cogon and manana habits prevent us from having a fulfilled and meaningful life.
With the right mindset and simple tools, you can learn how to finish what you start. You will understand where to spend your time, attention, and energy to make good things happen.to make good
Enjoy Your Life & Your Job
People are looking for a work-life balance. That is not easy. We have limited time, and people expect us to show that we care.
Leaders can enjoy a good life wherever they are. Discover the little secrets that can turn things around for you and everyone you lead.
Great At Work: Secrets of Top Performers
You can be great at work. Leaders with initiative, creativity, and empathy create a great climate and a winning culture. With examples from exemplary leaders and easy-to-use tools, you can also generate greatness at work.
One Thing
Leaders who innovate do one thing differently. When everyone zigs, innovative leaders zag. One does not have to build a thousand new things to create breakthroughs. Often, those who make breakthroughs identify the one thing that makes a significant difference.
Good to Great
Leaders who are complacent set good as a goal. They do not aim for greatness; they won't achieve excellence. When good becomes the highest measure, leaders swim in mediocrity most of the time.
You can quickly identify leaders who are the enemies of greatness. They delay action and wait for others. To justify their work, they compare themselves to the worst of the worst. They invent excuses and blame others when things go wrong.
Keep Growing
We all grow old. But only great leaders keep growing up. They pursue personal leadership. They build a culture of learning wherever they are. They refuse to settle.
Great leaders embrace a growth mindset. They influence others to grow too. They provide employees with the tools necessary to accelerate learning and create an environment where they can practice and master those skills.
In the Eye of the Storm
In times of crisis, great leaders pay more attention to people. This is because they know that people expect them to find quick and easy solutions in tough times.
While most people strive to survive, good leaders find ways to bounce forward and thrive. Leaders who succeed in crisis are effective communicators, creative, compassionate, and collaborative.
Personal Excellence
Personal excellence is about being your best in every situation. It does not force you to become the best because, in life, there is always someone better or lesser than you in something. It is not about comparing yourself with others; instead, it is about becoming a better version of yourself and choosing to do your best each day.
Sure, there are days that we will fail. Most days, we will fail because most people think that even a slight improvement is a step outside the comfort zone.
People who pursue personal excellence expand their comfort zones when exploring new opportunities. They are expanding their world, and they create new realities for themselves.
End Procrastination
When I was a teacher, I learned simple ways to ensure that students would work on their projects and submit them early.
It was common for students to not work on their projects if they knew that there were still three weeks or two weeks, or two days before submitting an assignment. They can opt to do something else because they avoid the hard work, and more enjoyable activities are everywhere.
If you have heard of Parkinson's Law, you will understand why people do less work for more time though they can choose to do more (and better) work for less time.
If you have heard of the Pareto Principle, you will wonder why people choose to do the less productive things at once and then delay doing the more productive things.
Procrastination is not just laziness. Most procrastinators are not lazy; they do not know how to end procrastination.
We will succeed when together.
Bayanihan Spirit
One person believes that there is a better way to help people and solve problems. The quick spread of community pantries around the country demonstrates the power of one. You begin something easy and simple so people can follow.
But there is more to it. It is successful because we value bayanihan. We believe that we don't have to conquer or die to become heroes. We only need to do what we can at any given time.
Do you want to cultivate bayanihan and the spirit of oneness in your organization? Do you want your team to recognize that what they do adds value to others? Do you want a mission-oriented team, a team that works each day to make a difference? You can do that.
Cultivate A Culture of Malasakit
People who do not have malasakit are "malas" and "sakit" of your company. They do transactional work. They lie. They make it difficult for your team to succeed.
On the other hand, team members with malasakit won't leave you behind. You walk the extra mile. Without being told, they find ways to serve customers, collaborate with others, and help carry the burden of other team members. In short, you can depend on them.
Do you want to promote a culture of malasakit in your organization? You can do it. Review your values, examine your mindsets, and practice new behaviors.
On Achievement
I met a dozen goo-roos who claimed that they are the best motivational speakers in the Philippines. Though I dreamt about becoming number 1, motivational speaking isn't a competition.
And there is no contest for helping people.
Sure, a few motivational speakers who command 7-figure talent fees. Some speakers are more entertaining than others. Others are more dynamic. And some were listened to by their followers every Sunday.
But far too many motivational speakers regurgitate the ideas of new age speakers, get-rich-quick preachers, and scammers.
These goo-roos speak like those infomercials on TV. They sell, sell, and sell themselves.
While you are here, I want to share quick ideas on achievement with you. That is the fundamental mission of a motivational speaker.
People are stuck with their problems. They are aching for transformation. And our mission is to help them unstuck themselves, learn from us, do something, and make things happen.
Of course, I, too, sell myself.
Because sometimes, you have to believe me first so that you can believe that what I tell you works. Most of the time, I sell you to you.
So, even if you leave this page without contacting me, I want to be of help to you. And I will continue helping you as long as you need my help.
Next, I will tell you why leaders fail and how I help leaders succeed.
What makes people underachieve?
Do you know why leaders often underachieve?
Do you know why many school smarts are underachievers at work? People expect them to succeed because they are too good to fail.
I met professionals who look good on paper. They got hired because of their excellent communication skills. One was a board top notcher, and the other has authored two books. But when it comes to delivering good work, they failed.
Why do many employees underachieve?
I won't be able to tell you everything here. But allow me to share reasons which are often ignored by leaders.
They avoid stress.
High performers embrace stress. Those classic breathing and relaxation exercises do not always contribute to peak performance because peak performances happen in stressful situations.
There is a time to be relaxed. There is time to be warmed.
Think of basketball players in a championship game. You do not see them relaxing. No, they need to warm up. They need to ready themselves to perform. Stress is not the enemy.
I do not mean to say that you overstress yourself. But to get to high performance, one has to get out of the comfort zone regularly. That's how you enlarge your comfort zone.
They do not take risks.
Nonperformers avoid risks; they wait and see. They play safe, small, and same-same. They wait and see.
I heard from a client that two of his employees refuse to take leadership roles. They are high-potential employees. The client needs a leader, but he cannot hire another one.
People think that the best time to lead is when one is ready. The only way to be genuinely ready is to show up today. Taking new roles may result in failure. On the other hand, it may also result in great success.
Being busy does not make one productive.
You can use a to-do list or kanban to do more each day. But doing more does not always mean high performance. But they do more because that's how they defined themselves.
You can do 80 things and get 20.
You can do 20 things and get 80.
You can do 4 things and get 64.
You can do 1 thing and get 54.
No, this is not a mathematical problem. That's the extended Pareto Principle. High performers pick the one thing that weighs twice more than 80 things.
You can keep the busy work. You can check every box on the to-do list. But doing these does not make one an achiever.
They do primarily hard work.
Hard work is essential to success. So, I do not advocate laziness. I am not also going to say that you work hard, not smart. Many motivational speakers talk about working smart. These get repeated until one starts to believe that hard work is terrible.
Hard work is good. But what underachievers fail to do is to play. They don't do the creative part.
I often hear people say that practice makes perfect. But, of course, no one becomes perfect because of practice. Those who spend scheduled time away from work find ways to improve.
They limit themselves.
Some of us hold a fixed mindset. That one will reach the intellectual limit. This seems right. Unfortunately, you won't know your limit unless you try.
I recommend you watch The Boy Who Harnessed the Wind and In Pursuit of Happyness. You will find characters who refuse to accept limits imposed on them by the world.
Underachievers limit themselves. They don't even try. Push them. Give them the courage to fly.
How to help people achieve their goals?
You can help people win in life.
You can do that as a leader. A motivational speaker can help, but it is your primary job. You cannot put a tag price on this. Overachievement means many things.
Overachievement may mean you help them 10x or 1000x their sales. Salesmanship is an inner game. Often, those who know excellent salesmanship skills sell better than most. But they don't get to their potential because of limiting beliefs.
Overachievement may mean getting the ability to pitch to demanding customers. If you can make them turn fears into a passion to serve customers, they are overachieving.
Overachievement may mean inspiring employees to achieve excellence together and making indifferent employees fully engaged. You encourage them to trust first and be vulnerable. You make them drive results.
Overachievement may mean doing something which they have not done before. Or starting to do small changes every day. Or speaking in a crowd. Or having the courage to do the "impossible."
One way to illustrate overachievement is when people move from A to B, A to C, or A to Z.
Another way is to make them the first step towards their heroic journey. After that, you help them transform every step of the way. You become a mentor to them.
As a leader, you are a coach, a counselor, and a mentor.
The motivational speaker serves to support you. He is the mentor on stage, and you the manager is the mentor at work.
Overachievement may mean stretching yourself so you can expand your comfort zone.
Here's a true story.
After four months in Toastmasters, I realized that my club became my comfort zone. I first joined the club because I wanted to be a confident speaker.
Four months after, I was so convinced I can speak anytime when I am in the club. That meant I had to go out and seek other clubs. Then talk in other associations. Then speak as a paid speaker.
Our comfort zones may shrink or grow big.
Each of us is capable of going beyond our perceived limitations. I do not believe in "no limits." My body tells me my limitations. I cannot lift 1000 kilograms. A solid and long lever may help. Or a machine. But there are limits to what I can do.
But I do not have to set my limits. I must find ways to make things happen. I can overachieve.
So, our question is, how a motivational speaker can help people overachieve? Is it enough that we talk about mindsets, strategies, and techniques. Can we use motivational stories to get people motivated?
There is no single formula, but we ought to offer a proven formula so people will understand and take the first step.
1. Define the dream.
If I were to speak to a friendly audience, I wouldn't talk as if there is a curriculum I need to cover. Even professional speakers make this mistake. Your topic is interesting to you, but nobody says it will also be attractive to everyone.
Your audience is hungry for X. What is their X?
You can assume, of course.
You can start with Maslow's hierarchy of needs. People want safety, security, connection, recognition, and meaning in life.
People want to contribute to the world. Most of us want to be somebody.
A motivational speaker may focus on one topic and sell it again and again. But you the manager must know what people really need.
You can ask your people. Listen to what employees say. Figure out what they are not saying too. You want to figure out what keeps your audience awake at night.
If you know the dreams of people, you will see if you can give it to them or tell them where to find it.
You can sell them a product or service. That means people have to buy your solution, or you can show how to get answers. Your goal as a speaker is to give them the courage to move.
2. Show how to achieve.
The first step was easy though many leaders fail to do it. Knowing the dreams of people helps you clarify their goals.
In doing so, you have also defined your goal as a manager. You ought to tell a motivational speaker what you know.
People don't buy something because it is good. They don't take action because it is logical.
You have to show them how.
Remember, they cannot overachieve without action. Employees have been in the "comfort" zone because they have not done something you are about to offer.
Show them that there are a few critical steps they must take. I call these vital behaviors. You do an A, and you will get B.
If you are working with a motivational speaker, you ought to collaborate. Give your bullet points.
Or use stories. Stories are effective ways to teach people.
Motivational speakers use stories. Stories give the listeners a vicarious learning experience.
Stories make you live in another person's skin for a while. Positive vicarious experience provides us with the confidence to do something for the first time.
Yes, it is important to give specific steps. Make it easy to understand. Make them do it.
Allow me to give an example.
When I was still teaching high school students, I taught creative writing. Creative writing was not in the curriculum because the subject is English Communication. However, creative writing is an excellent way to help them communicate better.
You communicate well if you think well. The closest thing to thinking is writing. So I have to teach students how to write. But I won't do it the typical way.
I introduced creative writing to the class. And the tool that I chose was journal writing. My goal was to help students write every day. But their previous experiences in writing did not help them. So I had to create new experiences.
So I began each class with five-minute journal writing. The vital behavior is to write every day. To make it easy, I started with freewriting – write everything that comes to mind.
To cut this long story short: they became better thinkers.
Some of my students found it easy to write essays. They got better grades in all subjects. And yes, some of my students are now authors.
Helping people overachieve is easier than we imagined.
3. Turn actions into habits.
One key to overachievement is making the vital behaviors stick. Action determines the result. Movements build muscles.
You can continue hiring a motivational speaker every year. Or every time you have a motivation problem. But you will be wasting your time if people will not turn action into a habit.
As leaders, you must engage employees.
This is why you ought to hire a motivational speaker when you have clear, measurable goals. Together, identify vital behaviors. Then, ensure that leaders promote and practice them.
Earlier, I said that it is good for you to hire Filipino motivational speakers. But this does not mean you can't hire John Maxwell or Brene Brown.
I have shown you a simplified formula for helping employees overachieve. Now, let's talk about why and how to get a motivational speaker.
FAQs: Before You Hire a Motivational Speaker
Reach out!
Footnotes
1

Fulfill these

two jobs

to 1000x your value.