The Leadership Speaker of Industry 4.0
Equip Leaders with Essential Skills That Will Make them Play Bigger and Thrive
What brought us here cannot bring us to the future. We need to transform talents so we get the essential skills and mindsets that will make us play bigger and thrive in Industry 4.0.
Jef Menguin is known for helping thousands of managers inspire and equip leaders. He is famous for telling captivating stories that teach and empower — and for introducing frameworks and tools that you can immediately use.
SPEECHES
Do One Thing
Pay attention to your intention. Ensure that you invest more time thinking and acting on one thing that can bring you the biggest result.
Is it your intention to be the king in your industry? You cannot do that by hiring the most number of people and offering your clients more features and benefits.
No. Your clients are looking for something that your competitors do not serve. If your intention is to be the only choice, you've got to pay attention to the client's need.
Whatever you do and whoever you are, you ought to pay attention to one thing.
Yes, one thing.
Not a hundred things. Not fifty things. Not twenty things. Not ten things.
One thing only.
Leaders who play bigger do not sabotage themselves by trying to succeed in many things. They don't measure their personal worth by how many hours they worked in a day, or how many people they met, or how many tasks they completed.
You can discover how to play your one thing in a speech that I can deliver in 60 to 90 minutes.
10x Your Teams
Many managers have the mistaken belief that team building means an offsite once a year playing game packages. It is not all their fault. Many team-building providers sold the idea that play works.
Wrong. You have been short-changed.
Having fun is great. Playing like kids once again brings happy memories. Playing makes us learn more about people at work.
But purchasing team building packages only makes you do same-same. It is an easy thing to do for lazy managers. There is no mindset of growth. There is no behavior change. There is no goal. They are like headless chickens told to move as fast as they can until they find their heads and breathe again.
The fault is not in the games. In the hands of professionals who care for your growth, games can be fun, intensive, result-oriented, and engaging.
In truth, whatever you do with your teams must be done to help them GROW. For without growth, you are not building. Without growth, you are disintegrating. Without growth, you are dying.
Grow your teams. Make your team play bigger without the bruises.
This job belongs to you, the leader of the team. You don't allow any team building provider to offer a mindless and aimless activity for them. Why? Because whatever your team members experience must advance your team and business goals. Team building doesn't have to be painful.
You can grow your team You can encourage, enable, and engage champions each day.
You can put into action play bigger principles that really work. This means that you will build a strong and trusting relationship with customers. That you will inspire and show your sales team how to bring in the money they have not imagined before. This means that you make your people champions in what they do.
I will show your managers and the whole team how to grow using Play Bigger principles and practices. I may speak to a group of at least 200 people for 60 to 90 minutes. My professional fee starts at 80,000 pesos.
When you are interested to know how to grow your teams and make them play bigger, contact me at once.
Grow Your Influence
Many leaders fail to engage people. When things go wrong, they blame people's attitudes.
In truth, engagement goes beyond recognition and rewards. It goes beyond motivating employees. It goes beyond using gamification tools. It goes beyond training.
And it is simpler than what most people think. Your understanding of behavioral psychology, learning experiences, and appreciative leadership will be of big help.
There are three spheres of experience you can influence to electrify employee engagement. From these three spheres of influence, leaders can design six powerful engagement strategies.
You can increase personal, team, and organizational abilities. You can cultivate personal, team, and organization attitude so you get the results you want.
Engagement is a superpower that can make every leader make change happen.
Play Bigger Now
Do you play bigger?
Leaders who play bigger create their own category and make the rules. They create products and experiences so distinct they build a tribe of true fans they super-serve.
Those who play bigger do not compete in improvement games. Their mission is not to offer 1 percent better or cheaper of the products and services their "competitors" offer. They create new solutions never imagined. They set themselves ahead of what is possible. They create new paths for others to follow.
Employees who play bigger do not play same-same. They think different. When others zig, they zag. Why? because they deliver solutions nobody has offered before.
To play bigger, you need to ask new questions.
Challenge old ways of thinking. Provide your team step-by-step guide so they play bigger.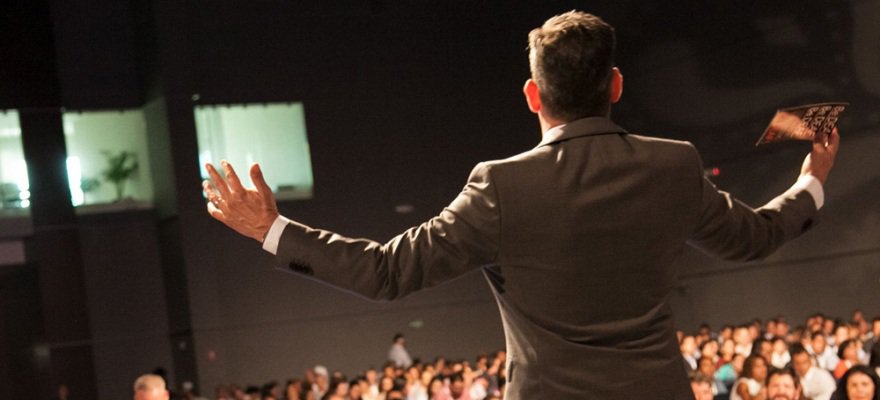 FAQs on Leadership Speaking
What is a leadership speaker?
A leadership speaker is a professional speaker who helps organizations inspire, encourage, and equip leaders. The leadership speaker offers customer-centric solutions tailor-fit to the needs of leaders. He uses compelling stories to communicate his message and drive people to action.
As a leadership speaker, what does Jef Menguin offer to companies in the Philippines?
As a leadership speaker, Jef Menguin delivers tailor-fit talks on creative leadership, intrapreneurship, customer experiences, innovation, and Filipino values like Malasakit. His signature talks are Do One Thing, Be An Influencer, 10x Your Teams, and Play Bigger Now.
How long is a leadership talk?
I deliver leadership speeches between 40 to 60 minutes. Leadership speeches are always scalable.
Some motivational speakers charge 60K per hour. How much do you charge?
The answer is it depends. It depends on what the organization wants, who will the audience, where, and when.

As a leadership speaker, I charge for results. Charging for every hour of talk which is baloney. Every time you add an hour to your talk, your impact decrease. So, why charge more for less impact?

It takes me three weeks to come up with an hour of game-changing talk and only 40 minutes for a two-hour talk. Any speaker who will charge you double for extending a one-hour talk to two hours is a scammer.

One organization paid me 10 thousand pesos for a 90-minute talk before an audience of 500. Another organization paid me 240 thousand pesos for a 45-minute talk delivered before 200 managers. And there are those who think they can invite "motivational" speakers for free.

The value of any of my talk is 500K pesos. I won't be embarrassed to charge any organization this amount. But we get paid in more ways than money. So, don't think twice. Reach out.
We need a motivational speaker to help us change the attitude of our employees. Can we hire you?
Many motivational speakers sell the idea that they can change the attitude of employees toward work. I am not really sure about that. There are many factors in improving work performance. Motivation is one of many things.

You may need to go beyond motivation. Consider culture shaping. Encourage personal excellence, malasakit, and a sense of urgency. It is difficult to measure a change in attitude. What I can do is to help you influence the behavior of your people. Please visit the page on motivational speaking to learn more.

This means that we will customize the message to your purpose.
Can leadership speakers be motivational speakers too?
Like motivational speakers, a leadership speaker uses inspiring stories too. The goal of a motivational speaker is to motivate any kind of audience. You will often find them in MLM companies and get-rich organizations, but they can be everywhere. They are like paid preachers.

Leadership speakers often motivate people to take action, but the goal is to equip leaders so you can achieve the mission and vision of your organization.
Can a leadership speaker be a keynote speaker too?
Yes, a leadership speaker can be a keynote speaker. The keynote speaker is the first speaker of a conference or a summit. Most conferences get experts to speak on topics that equip leaders. Though many resource speakers who equip leaders don't use the title of leadership speaker, they essentially are.
Do you teach others how to become a leadership speaker?
Leadership Speaker is a title you can give to yourself. I train leaders on how to deliver high-impact speeches. If you want to turn your managers and supervisors leaders who speak well, then I can help you.