Bayanihan turns ordinary people into heroes. It is the antidote to indifference, division, mistrust, and mediocrity. Understand why and how it works to build an engaged, united, trusting, and excellent company or community.
You will find this article useful if you are…
A governor or mayor who wants to bring your constituents to a worthy cause,
A manager or supervisor who wants to inspire your teams to go beyond,
A teacher who wants to encourage students to embrace admirable Filipino values, or
A changemaker who wants to enroll Filipinos in your change-making projects.
You can be a bayani, a hero in bayanihan. Find out how.
What is bayanihan?
Bayanihan, pronounced as /ˌbʌɪəˈniːhan/, is derived from the words bayan (community) and bayani (hero). Bayanihan happens when people unite to help individuals and communities in need without expecting anything in return. Giving aid, without being asked, even to strangers, is a distinguishing mark of Filipino culture.
Tulungan and damayan are two other Filipino words for bayanihan.
Bayanihan is also inspired by other enduring Filipino values like malasakit, pagdadamayan, pakikipagkapwa-tao, and kusang-palo.
In times of heavy typhoons, when everyone is a victim, Filipinos pitch in and give whatever they can. Magbayanihan tayo is a Filipino phrase used when someone invites others to become heroes for the community.
In the Filipino context, a hero is someone who loves his people. But people literally can be anyone because of our sense of pakikipagkapwa-tao. Pakikipagkapwa-tao means we consider other human beings as another-self.
Bayanihan is foremost among Filipino values. We believe that together we can survive and thrive. Every year, we experience the heaviest typhoons, volcanic eruptions, earthquakes, and even man-made calamities.
We always bounced back. We keep our smiles. That's because we know that no matter who we are when we need help, our fellow Filipinos will unite to help those who are in need.
When you need seminars for leaders, I can help you. Go to Leadership Training to inquire today.
The most popular demonstration of bayanihan is lipat-bahay. Members of the community help a family relocate their nipa hut. This is the inspiration for Mike Hanopol's Bayan ni Juan (Watch the video here).
Painters use this illustration for the message it conveys: we will carry your burden on our shoulders.
Bayanihan comes from the word bayani which means someone who loves his bayan (bayan means either community, town or nation). A bayani is a hero and bayanihan literally means "being heroes" for the community.
If you appreciate word origin, I invite you to the bottom of this page. I explained the deeper context of bayan, bayani, and bayanihan.
Gift of Knowledge
If you want to learn more about Filipino culture and values, I strongly recommend the following articles:
Managers work with trusted Filipino team-building facilitators to create experiences that shift mindsets and build team skills.
Bayanihan Spirit
Bayanihan spirit refers to the communal desire of Filipinos to show acts of kindness to those in need. We often hear the phrase in times of crisis. We feel it we read about other people who helped victims of typhoons, volcanic eruptions, earthquakes, and other calamities. We contact our friends and find ways to help. Because we never run out of these calamities, the spirit of bayanihan is ever-present.
We say that there is a spirit of bayanihan when we see outpouring support for others. Filipinos, even those with less in life, felt the urge to help. It feels good to help others.
You feel the bayanihan spirit when a community unites to help someone or when they work for the common good – without expecting any reward.
The Philippines is often visited by typhoons. It is normal for people to stay at their houses and play safe.
But when people need help, we go out of our houses, away from safety, to help them. We find ways to help each other in whatever capacity.
The bayanihan spirit makes me feel good about myself and proud that I am a Filipino.
We are resilient because we help each other.
Bayanihan Spirit During COVID-19 Pandemic
The bayanihan spirit was made more evident because of the Covid-19 pandemic.
I remember that during the first quarter of 2020, our government leaders did not take the Covid-19 virus seriously. Even the President said it will disappear by April of that year.
But by March 15, 2020, the government declared a lockdown. Stores closed. And after a month, many Filipinos lost their jobs.
Though the government provided financial aid, it took weeks before it reached the poor. There was anxiety because of the government's confusing pronouncements and unclear solutions. Hunger was everywhere.
In April 2020, I noticed that many of my friends on Facebook posted their willingness to help those who are in need. They told people not to be ashamed to seek help because we have to help each other.
Some groups started ambagan. They contributed money to buy rice, sardines, vegetables, and meat to which they distributed to communities.
Because of Facebook, people were able to inspire others to do the same.
But these are one-time activities. And movements were problematic. Those who intend to help must get permits from local officials before they can reach those they intend to help.
On April 14, a month after the lockdown, Ana Patricia Non open the first community pantry in Maginhawa Street. She set up a bamboo cart containing food items. People were encouraged to get what they need and give whatever they can.
It was a hit.
The community pantry solved many obstacles. Those who want to help do not need to go house-to-house. They can go to the market, buy food, and donate.
Those who need food do not have to wait. They only need to go to the community pantry and get the food they need for the day. They won't be hungry for that day.
Some critics say that what Patreng Non started cannot be sustained. But something else happened. People open their community pantries nationwide.
A week after the first community pantry was launched, people started posting photos of their community pantries. The bayanihan spirit is infectious.
Here in Los Banos, I remember three community pantries on Lopez Avenue. And there were community pantries in every barangay.
I read stories of people who contributed whatever they could. Those who cannot donate volunteer their time. Fishermen donated fish, and farmers brought vegetables. A banana cue peddler donated her goods.
The mushrooming of community pantries was like a biblical demonstration of the multiplication of bread and fish.
Examples of Bayanihan Today
You will find many examples of bayanihan today. To appreciate this Filipino culture of bayanihan beyond the "house-transfer definition," we ought to give it a face. We will see how one person can become a hero and encourage bayanihan.
I am sure there are thousands of stories you can find out there, most of which are unwritten.
We can also bring concern for the well-being of the community to our organization. To help companies during these tough times, I designed team-building programs that encouraged empathy, kapit-bisig, and compassionate leadership.
The OVP has one of the smallest budgets in the government, just enough to cover operational expenses. But Leni Robredo believes in the power of bayanihan. Through Angat Buhay, she attracted good Filipinos to work together to lift the lives of Filipinos. For example, during the Pandemic, Angat Buhay brought thousands of volunteers and donors to aid health workers and victims of Covid-19.
Angel Locsin is not a hardcore activist, but she has been advocating the rights of women and indigenous people. She used her money to help those who were victims of natural disasters. Because of this, she inspired other celebrities to donate and volunteer. She inspired Filipinos to embrace the true spirit of Bayanihan. Forbes Magazine listed her as one of the "Heroes of Philanthropy 2019".
When people need help, Filipinos come to the rescue. In this article, Rappler listed those instances when ordinary Filipinos continued helping others even during the Pandemic.
Some days after the Taal Volcano erupted, there was heavy traffic flow going to Batangas and Cavite. They are ordinary Filipinos who brought food, clothes, and other essentials to help fellow Filipinos.
Every business can be a social business. During this Pandemic, some stores offer free coffee to health workers.
I love Ligo. And I admired its owners for choosing to support Filipinos during the Pandemic.
7. The Maginhawa community pantry
I thought that community pantries would exist only for a week or two. Unlike the supporters of the President, I never doubted the intentions of the founder of the Maginhawa Community Pantry and of others who Patricia Non inspired. This is an excellent example of Bayanihan. Filipinos helped because they knew they don't have to wait for politicians to do something good.
8. Bayanihan in the Netherlands
I feel good about this post. Filipinos bring the spirit of helping people in need wherever they are. I have heard of OFWs who have been helping our kababayans abroad.
Train managers, supervisors, and team leaders. Increase their abilities to achieve goals, build teams, engage employees, and develop other leaders.
How bayanihan happens?
Helping those who are in need is practiced everywhere in the Philippines. Foreign tourists can see this in practice easily, but they don't have a name for it. It is a lifestyle in a country of typhoons, floods, and earthquakes.
But how does it work?
Bayanihan begins with one.
In college, I thought of helping the victims of the Mt Pinatubo eruption. I have no money to give, but I felt others would be willing to help. I told my classmates about it, and they loved the idea., then we started talking to other students. After two weeks, we went to Pampanga with four trucks of relief goods and some money. We did this project two more times.
It begins with one person. That person can be a politician, a celebrity, a professional. or an ordinary person.
The act can be as simple as pushing a car that refuses to start. When one person is willing to help, others soon follow. I bet you see this happening almost every day.
Or as heroic as Jericho Rosales's rescue of those stranded in their houses during two super-typhoons. He is a living hero, and many are like him.
Then others follow.
One mother cooked food for those in rescue centers after an earthquake — and then her friends followed her lead. An entrepreneur sold her beauty products for significant discounts to donate the proceeds, then men and women bought the products even though some didn't use them.
It begins with one, but it never stops with one. There are always people who will follow – and often scale up the reach of the deed.
In our lifetime, we have received help from strangers. Our sense of utang na loob, our debt of gratitude, inspires us to pay forward.
To foster the spirit of cooperation, you only need one person to start. Then others will follow. And those who benefit from the act, directly or indirectly, will pay forward.
Join a Bayanihan
Showing our love for others is the measure of our heroism. There are many living heroes around us. They give everything they can for the sake of the community.
I know of workplace professionals who spend their time with street kids on weekends. They teach them reading and mathematics.
A company executive is a fire volunteer. A school teacher gives free Zumba sessions to senior citizens. A family plants vegetables, which they give to neighbors (who were also inspired to plant vegetables in their backyard). People find ways to help.
If the communal act of giving inspires you, there are things you can do. We can show our love for the community by joining those already doing it. So, here are a few steps.
Find a cause. A cause is something that you want to do for the community. Something you believe will make a difference.
Make your list of causes. Here are examples:
Help jobless people.
Educate farmers.
Educate fisherfolks.
Educate young children.
Promote a clean and orderly community.
Provide care for the elderly.
Take care of stray cats and dogs.
Promote mental wellness.
Promote financial intelligence.
Support single mothers.
Help the community become earthquake-ready.
Provide free counseling to young parents.
Provide a support group for out-of-school youths.
Offer free legal advice.
Offer free dental services.
Give food to street children.
Keep your street clean.
You can find many causes because there are many things we want to change. And we have the power to make change happen.
Look for your groups. Likely, there are already groups that are actively engaged in your cause. Find these groups and understand what they are doing. Find out if there is any place for you in the group.
You can start in your barangay. Find out if your local government has "projects" aligned with your cause. Or find out if they know organizations that advocate your cause.
You can also go to your municipal government. Most local officials have causes that they support. You can support these causes without having to be political.
Based on my experience, many of these causes do not work because those who manage them do not have the passion for the cause. They were just appointed by their politician bosses.
Finally, if you cannot find any of these causes, use Google search or explore Facebook groups.
Join and be an active participant. Once you have found your cause, join those groups that can use your talents and skills most.
Donating money is okay, of course. However, your cause will surely make you contribute time and energy to make a difference.
Work with your community. Together we all can make a big difference.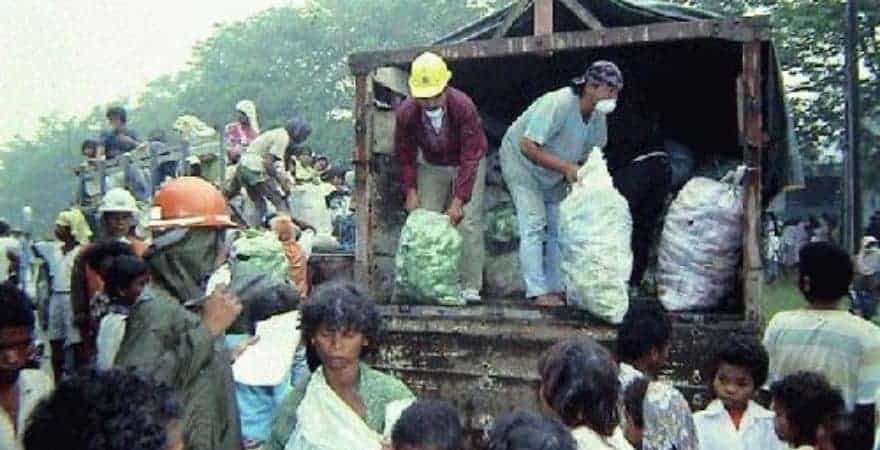 How to Start A Bayanihan Project
Most of what we do for the community is instinctive. Somebody needs help, and so we help.
But many bad things happen repeatedly. You want to make a difference. You believe you cannot do it alone, so you will start your bayanihan project.
How are you going to do it? Here are the steps I recommend.
Find a cause.
We already discussed these above. Some causes you can accomplish in a day or two. Others you have to work on for years.
Be clear about your cause so you can communicate it. People need to know why they need to support you.
Enroll the support of others.
Find people whose skills and talents are complementary to yours. You need to find people whose values are aligned with yours.
When I did my Pinatubo Project during my college years, I talked to three people I believed would be willing to go the extra mile. The project became successful because of the first two who joined my cause.
Inspire a shared vision.
Help people figure out the impact you want to make together. Once you invite people to join your cause, it stops being yours alone. You have a shared cause, and you must have a shared vision too.
Listen to their stories. Find time to help the group figure out the end point of your project.
In my experience, people take ownership of what they dream about together.
Enable others to act.
People have the desire to contribute. They want you to make use of their talents and skills.
Ask people how they want to be of help. Explore what they could offer. Show that you are willing to work with them and that you'll find ways to help them jump over any obstacle.
Bayanihan works because people are willing to do something for the sake of the community. The spirit of volunteerism is something that you cannot buy. People who volunteer find ways.
Have fun and enjoy the journey.
Even the most serious cause needs volunteers who have joy in their hearts. Celebrate small successes. Recognize people for what they bring.
In truth, we don't expect to be called mga bayani. We only want to help because that's who we are.
Why is bayanihan important?
Bayanihan unites us. It inspires Filipinos to recognize themselves as one nation. Because of this value, we choose not to stay on the sidelines. We take ownership of the problems around us and find solutions.
Bayanihan means more than the communal act of helping families transfer their houses into new locations. If it were, it wouldn't be called bayanihan but lipat-bahay.
Bayanihan makes us work for the common good.
Bayanihan is the antidote to kanya-kanya and tayo-tayo. We separate ourselves from others for an infinite number of reasons. The most debilitating reason, of course, is greed.
Though we are a nation, some Filipinos still think of themselves based on ethnicity, regionalism, and faith.. Some of us still think they belong in tribes. Regionalism is the enemy of nationalism,
That though we are a nation, we are still divided by the very things that should unite us.
For example, during elections, we still choose candidates based on where they were born, not on competencies and character. Many of us will still support the corrupt and incompetent politician only because he is from the same province or town. Or simply because he speaks the same dialect.
Kanya-kanya ang tayo-tayo sabotage our opportunities to unite us and do good for all.
Let's get rid of tayo-tayo by encouraging them to love our country more.
Encourage our younger generation to cultivate bayanihan. We develop culture by embracing those beliefs and practices which are important to us.
Bayanihan brings us together as one people.
Word Origin and Definitions
Articles about Bayanihan
Explore the following articles about bayanihan. I intend to provide you with more examples – and maybe build lesson plans for teachers so they can teach this important cultural value in schools.
Filipino Values System
Filipinos value their community. We believe that no one lives alone. We are responsible for the welfare of each other.
Though Western values like independence and self-reliance are embedded in our educational system, we identify ourselves with our community.
It is no surprise that almost all positive Filipino values place the welfare of the community first. Our community is our extended family.
Bayanihan and Malasakit
We come together because we care.
This does not mean that we always come to help. Like most human beings, some of us choose to become bystanders. Some of us choose to wait and see.
Bayanihan and malasakit are not habits. This is why someone has to start. Like the multiplication of bread, someone has to give first. Then, others will follow.
Malasakit makes as act. We know that we are responsible and we can do something. We care for others and this is why we choose to work together for the common good.
Bayanihan is malasakit in action.
Keep this in mind.
You've got to care first before you can help.
Be the first to act. Be the first to give. Then, it will not be difficult for others to follow you.
Bayanihan and Pakikipagkapwa-tao
We Filipinos believe that every person deserves our respect and protection because they are like us (and they are us).
We don't help out of pity. We do not help because we are superior. We help because we are part of each other.
It is easy to dismiss this belief.
The huge gap between the rich and poor in our country does not support this belief.
How can we say that Filipinos value others while many of our political leaders do not seem to care?
Filipino culture and values do not dictate our actions. Our values influence our choices. And people often make decisions based on conflicting values.
And I believe that when Filipinos participate in bayanihan, they give more value to their belief that every person deserves our respect and protection.
Bayanihan Infographic
Common Questions
Articles about Filipino Values
Values: Meaning, Behaviors, Choices, & Unheard of Ideas. Our beliefs influence our behaviors and results. We Filipinos need to understand that our values influence how we work as one nation. Our values are products of our experiences – and we can change our experiences if we care to examine what we learned from each. Why do promote malasakit? Why pakikisama brings both our best and worst.
How to Convert Values to Action. If we are to teach a value like becoming living heroes to our communities, then we need to define the most important behaviors that strengthen that value. In our organizations, we also need to help employees align their actions to our core values.
Malasakit: We Filipinos Are Responsible for One Another. The essence of malasakit is in recognizing that the other person is just like us – or we are one with them. As a value, malasakit brings us together. It makes us more responsible for our actions. Bayanihan Spirit, for example, is a demonstration of how we care for each other.
Bayanihan is one of the positive Filipino values. If you want to understand how Filipinos work and how you can harness their values, I encourage you to explore these traditional Filipino values.
Mike Hanopol – Bayan Ni Juan (with Lyrics)
Dito sa bayan ni Juan may isang kaugalian,isang daing sa kapitbahay, buong bayan dumaramay.Dito sa bayan ni Juan may mga kalalakihan,sa oras na kailangan, bu…