Hi, my name is Jef Menguin.
I create courses, publish articles and videos, write books, and deliver speeches that inspire and equip leaders. I am a learning design strategist, virtual mentor, and keynote speaker.
Companies hire me to help them build creative, committed, and capable leaders. As a result, they got engaged employees, delighted customers, and accelerated business growth. My clients challenge the status quo, think differently, and play bigger.
In 2020, I pivoted from live sessions to virtual (or online) learning experiences. In the process, I discovered that online learning experiences provide reliable, faster, and better results in developing leaders. These days, I host online courses, virtual workshops, and strategy sessions online.
Read further down to learn about who I serve, what I do, my message, and how I work with clients.
We Can Bounce Forward
People talk about how Filipinos had survived typhoons, floods, earthquakes, fire, famine, tsunamis, and other calamities. People can smile on camera though a house nearby is burning. We joke about our misfortunes. We create memes to project our frustrations about our mediocre government leaders.
We Filipinos are resilient people. Or at least, that's what we want to believe.
Remember what Einstein said about insanity: you keep on doing the same things again and again, then you expect different results. Some things we label as "resiliency" is another form of insanity.
I don't know you and why you are reading this page. My guess is that you are here because you want to get a biography of Jef Menguin. Well, you can download it here. It might be because you are looking for a speaker on virtual workshops, webinars, or conferences.
I created this website for speakers, teachers, and leaders of all kinds.
Since this is going to be the most visited page of this website, I want you to get what you want — and get something more. Get something valuable and something different.
I want to tell you how I found my message and how I am living.
But before I tell you my story, let me state the not-so-obvious:
You will not find here get-rick-quick ideas. I believe that the right mindset, right abilities, and opportunities can help us achieve. During these times, I may share with you some side hustles (sidelines) that require hard work. Even the so-called passive income requires action.
You will not find here regurgitated ideas. You may find ideas similar to your favorite authors or gurus. I read a lot and my reading can influence me. But I don't write about things that I read or heard unless they are validated by experience. I talked about what works.
I won't try to motivate you. I work with motivated people. I will share stories that inspire and encourage. I teach information relevant to your needs as a leader or speaker.
I invite you to think different and play bigger.
Anyhoo.
Let me tell you a little bit of me.
A little bit of me.
I was born in Camotes Island, Cebu. I reside in Los Banos Laguna together with my wife Romelyn (who is a college librarian) and our son Jefferson Carlos (who is six years old and very inquisitive).
I was a seminarian. I was an activist. I was a teacher.
I am a graduate of Political Science. I have 30 units in Master of Arts in Teaching and 9 units in Masters in Public Administration ( I took MPA while having my MAT). I got bored with lectures and class reporting. I opted to rest for a semester. But I did not come back anymore. I got hooked on real-world learning.
In 2004, I pursued a career in motivational speaking. Years prior, I was influenced by Og Mandino, Wallace Wattles, John Maxwell, Les Brown, Tony Robbins, and Francis Kong.  
I joined Toastmasters International to polish my speaking skills. During the first three years of my membership, I delivered more than 250 speeches. I got my DTM norm in 2011. I thought I would become the best motivational speaker in Asia and the best Jef Menguin in the world.
Then, I got involved in consulting.  
For the Department of Education. I have trained school principals and teachers.  I designed and implemented a professional development program for The Farm at San Benito.  
Clients started referring me to others. I started facilitating team-building workshops, presentation skills, customer service, supervisory training, stress management, time management, change management, personal development, and many more.
I could have stayed on one lane, but I took whatever landed on my lap. I was afraid to reject a prospective client. It was not the best way to establish oneself as an expert. It felt like running from one venue to another but not reaching anything.
But I learned something from the experience.
I realized that  I was not called to be another Og Mandino, John Maxwell, or Les Brown.  They are greats in what they do — and I could be like them too – but I want to do something else for the people I serve.
Most of the people I met do not lack motivation. Some of them are over-motivated under-achievers. They lacked the skills and opportunities to get what they want. They need people who can mentor them.
So, I did more training and consulting.
I am a virtual mentor, an author, professional speaker, and a learning strategist. I will talk briefly about these later.
My Messes and My Message
My first company was Starfisher Asia People Development. I hired my first employee because a friend recommended a fresh graduate who needed job experience. During the first two years, the company grew beyond my expectations.
In 2010, I started getting invitations to speak in other countries. Business was good so I hired 12 more people.
I thought the business will scale up. I got used to getting six-figure clients. I established joint-venture partnerships in Cebu City and in Davao City. Then natural calamities happened. Training programs got canceled. Joint-partnership did not produce anything. But I got bills to pay that can't wait.
Starfisher Asia almost folded in its fifth year and I had to let go of my best people. It took me a year to bounced back. I had moderate success as a one-man business. I failed to grow my first business because I lack business acumen.
Then, an opportunity came and I grabbed it without question.
In 2016, I joined a group of businessmen to create a training company for leaders. It would be a member of a group of eight companies. And the board decided that I would be leading it.
To say that I worked more than anyone and more than anytime in my life is an understatement. I bet my life on its success that I neglected Starfisher Asia and decided to close it down. I put all my eggs in one basket.
I saw that my wife was proud of what I have achieved — and she too believed that I could make a great difference. Many things that I am doing today, I learned when I was building this company.
It never occurred to me that after 18 months, I would be leaving the company. My vision was too big for the Board; they wanted to build the training company slowly, surely, and safe. I wanted to play bigger – training does not have to be a commodity business.
That's my version of the story.
But truth be told, I messed up big time, and I knew it.
Deep down, I knew I did my best and contributed much to the growth of the organization (as #1 salesperson, marketer, and learning leader), but I failed as its President. I grew impatient because I saw opportunities they didn't see.
After I left the organization, I did not close any client for four months.
No, people did not leave me.
I had on average five inquiries every day. This website was working hard for me. But I sabotaged myself. I punished myself for my failure that I did not pursue clients though they're knocking on my doors every day. Of course, I realized this in retrospect.
The worst calamity that happened to me was man-made. And I was the man.
But I remembered what I learned from Og Mandino, John Maxwell, and Les Brown. I remember the teachings of my grandfather and the great mentorship of Vic Santiago. I immersed myself in the study. I evaluated my experiences and looked for lessons.
I started to put more value on connecting with people, enabling leaders, and creating opportunities for others.
In 2019, I came back.
I established Business Innovation Talent and Development. I focused my attention on helping organizations innovate their businesses and build their leaders. Though I was not certified in any leadership or innovation program, my experiences (a mix of success and learning) taught me lessons my clients use.
I saw my business grow.
I had great plans for 2020.
Boom!
The Covid-19 pandemic happened to us.
My clients, except one, canceled our engagements for the rest of 2020. I understood. I know, that the pandemic, like other things in this world, will pass.
Until July 2020 came. I woke up to the reality that the Philippines won't be out any sooner.
I decided that the best thing I can do for myself, my family, and my country is to bounce forward.
I won't be starting from scratch. The values, vision, and mission remain. Three months of quarantine allowed me to pick the best products and services that can help Filipinos during this crisis and in the new normal.
My programs are platform agnostic. I only need to choose what is applicable today.
There are three things that I do best: professional speaking, workplace learning strategy, and value-creation.
I design online courses for speakers, leaders, and small business.
I facilitate virtual workshops and host webinars.
I build groups on Facebook and educated members every week through live streaming and recorded videos. I am also building a community to help Filipino professionals build their dream jobs.
I write books, publish blogs and newsletters, and help small businesses market their products and services.
Calamities and pandemics won't stop me from helping others.
I may fumble and fail. I messed up so many times, it lost count of them.
But found my message from my messes. Whatever I do today, is a living testimony of my message.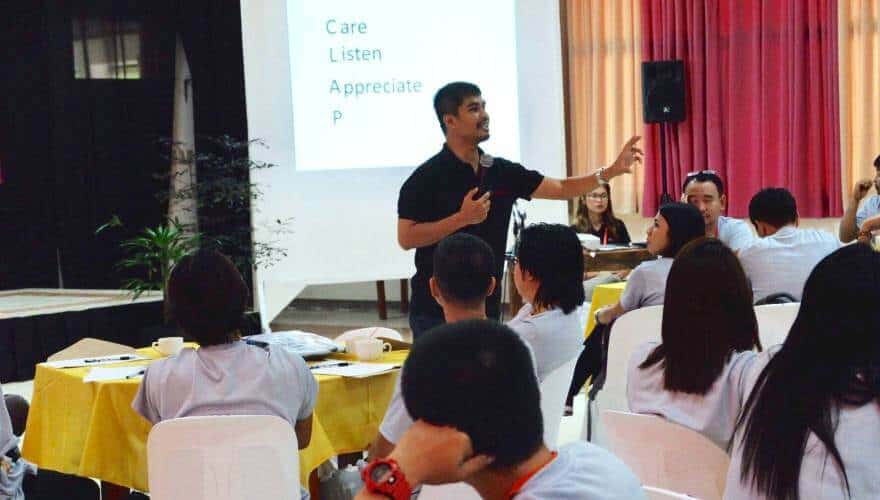 Get in touch!
You can use the form below to connect with me.