Jef Menguin
President, Compass Center for Leadership
When you work with Jef Menguin, you'll see wide-open access to making a better world as a leader.
Ever dream of changing the world or making a positive difference? You can and you will. Be a positive revolutionary. Make the eyes of people around sparkle. Speak possibility. Create a positive change in your organizations and communities.
Jef Menguin is your partner in enabling leaders at all levels. This is his official website.
Here you will discover fresh leadership ideas and use game-changing innovation tools and strategies.
Learn effective approaches to personal excellence. Apply research-based influence strategies and programs. Change your mindset and approach to serving others while doing what you love most. Know how to motivate and enable your people — and use effective ways to engage them.
Start creating positive difference.
In 2006, Jef Menguin started his career as professional speaker by delivering motivational speeches. Later on, he found that what people need is not another Filipino motivational speaker since nobody can really motivate people but themselves.
Leaders need more than motivation because there are many over-motivated under-achievers in the workplace. They need skills. They need opportunities. They need the environment to grow. And we must exhaust all means to help them.
For the last three years, Jef Menguin has delivered 20-30 keynote speeches each year on leadership, teamwork, customer service, entrepreneurship, and intentional influence. You can also enroll your people in his bootcamps, masterclasses, workshops, seminars, and other leadership learning sessions. He has trained thousands of leaders in the Philippines, Malaysia, Indonesia, Thailand, and Taiwan.
You can find him these days leading an organization called Compass Center for Leadership, Management, and Governance.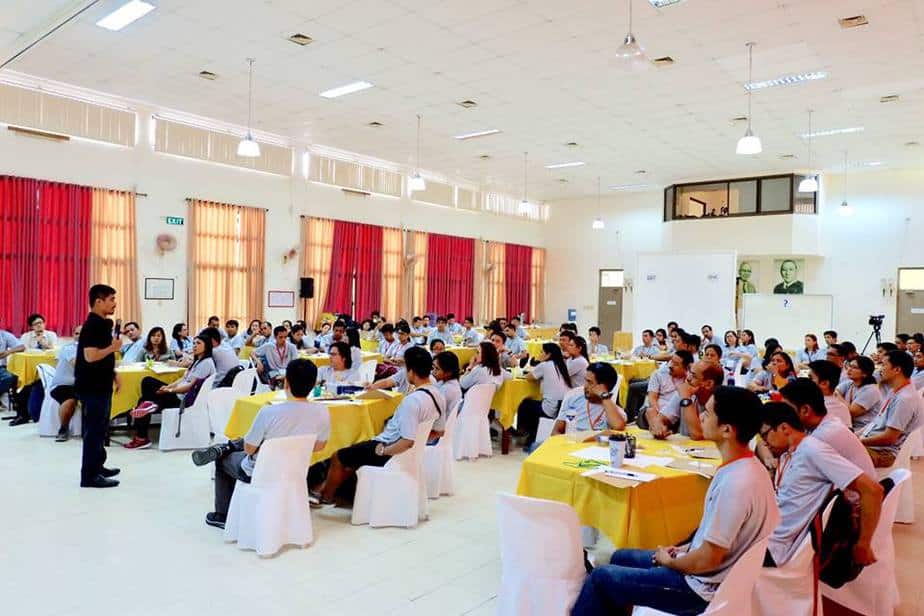 I write for you.
I imagined you, dear readers, when I write. I know that when you visit this website, you are looking for something — and I want to be of help.
It might be because you want to start something. A business maybe — or a new project.
It might be because your job requires you to speak and present frequently – and you have fear in public speaking and you want someone with expertise to teach you to speak with confidence and conviction.
It might be because you have just been promoted to a leadership role and you want to enroll yourself in leadership training programs.
It might be that as an HR Manager, you want to initiate a corporate-wide personal development program and you want to get sound advice on how to begin and build momentum.
It might be because you have been assigned to lead your team building exercises, you do not know how facilitate, and you are looking for some good advice on how to facilitate right.

Or it might be that you are looking for a team building facilitator — and your friends recommended that you look for Jef Menguin because he did great work for them.
It might be because you worry about employees who lack commitment, who avoid accountability, and who do not pay attention to results — and you are looking for a consultant who can help you design learning experiences that will turn things around.
And it might be that your boss asked you to look for training programs in personal development, stress management, time management, supervisory skills, management skills, trainer the trainer – and you are looking for tailor-fit programs or public seminars given your limited budget.
It might be because you are looking for a keynote speaker who can effectively equip people about excellence, leadership, customer service, teamwork, and Filipino values. Or it might be because your managers are not motivating enough and you are looking for a professional speaker who can show how to improve performance by keeping your people motivated.
It might be because your people are performing well and they are good in everything they do — but you do not want them to grow complacent, and you want to to move your company from good to great.
It might be because you aspire to become a professional speaker yourself. It might be because you are looking for inspiration… you want to become a remarkable leader, salesman, teacher, trainer, public servants, et cetera.
I write because you want simple answers and you expect better results.
I pray that you'll get your questions answered, be inspired, be equipped, be enabled…and be my loyal friend.
I write for my son.
He's growing — and anytime soon he'll be able to read, understand, and search for meaning.
Like many young minds today, he might be asking for ways on how to get rich quick. Or how to lead teams. Or how to inspire people. Or how to become a better person.
He will find my thoughts in my journals, in the early manuscripts of my speeches and seminars and through this website. He will be able to use my ideas to have a better life. And become a better person!
These ideas are seeds for the future. Not all are good seeds, but the good seeds he'll be able to use. I do not want to bring these ideas to my grave.

Some of these ideas will make him very rich. Others will make him become confident and important. Others will make him realize that life isn't fair — and that's not a bad thing. And most importantly, he will realize that he can choose happiness — and he can create happiness for himself and others.
I will also provide him some of the tools that I used and am learning to use. The tools I will not be able to master, he will reinvent. There are always great ideas; but some great ideas will be recognized and used when the right time comes. In my writing, he will know which ideas were planted, which ideas died, and which ideas are waiting for the right time.
I write for Jef Menguin
Writing helps me examine my beliefs and forces me to question my ideas. I do not write because I have great ideas. I develop great ideas because I think.
And I make my thoughts visible through writing, sketching, and conversations, and public speaking.
Writing is closest to thinking.
Let's create a better future YOU and I really care about.
This website is created with a sense of urgency. I believe that you and I deserve the best in the world. We do not have to wait for others. We do not have to wait until we are ready. Waiting wastes time. I am not happy with the status quo — and I believe most of us are not happy too.
I offer to you my experiences. Let us help each other create a better future really care about. Let's speak possibilities. Let's be possibilities.