Looking for relevant team building games for your next event?
Over the years, I have curated, created, captured, and improved team building games. I have used more than two hundred team building experiences since 2007.
In the hands of an accidental team building facilitators, all team building games promote teamwork.
Team building games may help participants develop team skills beyond teamwork. Games may help them learn how to innovate, communicate, make good decisions, produce more, have more fun, et cetera.
The way you construct rules, the roles of each player during the game, the measure of success, and how you debrief each game define how team building participants learn specific team skills and attitudes.
I highly suggest that you go back to this page again and again for updates.
Icebreaker Games
Icebreakers games and activities can help you start your team building event right. Use icebreakers when (1) participants come from different backgrounds, (2) people need to bond quickly, (3) the team is newly formed, (4) you can use icebreaker game to jumpstart discussion, and (5) get rid of same-same training programs.
Accidental team facilitators may use the following icebreakers.
Trading Cards
Object of Play
People sometimes grumble about the dreaded "icebreaker," but humans are like cars: we perform better when we're warmed up. This meeting starter is great because (1) it lets people self-define, (2) it gives people a "personality" outside the typical work environment, (3) it gives participants quick snapshots of multiple players (since they see many cards as they're being passed around), and (4) it creates memorable visuals that give people conversation pieces as the meeting progresses.
Number of Players
Unlimited
Duration of Play
10–15 minutes
How to Play
1. Give the meeting participants access to large-scale index cards and markers.
2. Ask them to take 5–10 minutes to create a personal "trading card"—one that includes a self-portrait, a nickname for their "player," and one thing about themselves that people in the meeting aren't likely to know.
3. Have the players pass the trading cards around the room in no particular manner or order. Tell them to read each trading card that falls into their hands and hold onto one they might ask a question about. They can keep passing until they find one.
4. Ask for volunteers to read their player's name and nickname and then to ask that person a question related to the little-known fact on his card.
5. Let the player who was chosen elaborate on the question he was asked. The player can then opt to ask the person whose card he's holding a question, or he can pass and you can request another volunteer.
6. Keeping going around until the players appear to be sufficiently warmed up. But try to keep the play at or less than 15 minutes long.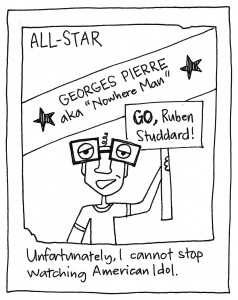 Strategy
So, during the Trading Cards game, there really is no harm and, ahem, no foul. Help meeting participants integrate before the meeting starts.
Source: Gamestorming
Evolution Game
Promote communication, interaction, cooperation, and fun!
Procedure:
1. Describe five stages of the evolution process and their stances.
a. EGG – curling on floor
b. CHICKEN – squatting on floor like a chicken
c. MONKEY – hunched over with hands under armpits
d. HUMAN – standing up straight
e. SUPER HUMAN – standing on tip toes with hands in the air
2. Every person starts out as an egg. Every egg finds a partner and plays Rock, Scissor, Paper with the person. The winner advances to the next stage. The loser goes down to the next earlier stage (chicken becomes an egg, super human becomes a human, etc) if you are an egg and you lose, you remain an egg. 3. The winner is either the first person to become a super human OR person who remains a super human the longest OR everyone who is a super human at a certain time in the game.
Innovation
You can use team building games and activities to foster innovation. These are simple to use. And with excellent debrief sessions, you can help your team think out of the box.

Insanity Loop Challenge
Pairs are connected using the insanity loops, their challenge is to become disconnected from their partner, without removing their hands from the loops or untying the knots. This will get people working closely together and you'll usually hear lots of laughter as people try to solve this fun and challenging puzzle.
Equipment Required: 2 x single length short ropes with knots tied to each end of rope per pair
Total Time: 8 minutes
2 minutes to brief and set up
5 minutes to achieve outcome
1 minutes to review
Insanity Loops Challenge Instructions
 Tie a loop at both ends of the length of rope. Ensure you have enough ropes for one per person and have a few spare (just in case the knots become loose during task). Note, that the loop needs to be just large enough for someone to stick their hand through.
Participants will be working in pairs during this challenge (if you have an odd number put them into a group of three). One participant places their wrists in the loops,the other then places one of their hands in one loop, takes the other end of the rope and intertwines once with the partner's rope before placing the other wrist in their loop. You will want to physically show people how to do this to make the process easier for all.
Once the partners are connected, the ropes must remain, at all times, on the wrists they started on. The objective is to get everyone free from their partner.
Rules
Your wrist loops must stay on your wrists throughout the entire activity.
The shoestring may not be cut (in any manner).
The knots must remain tied as they are and you cannot physically alter the ropes or knots or partners.
If partners get tangled up it's allowable to take hands out of the wrist loops and start all over again.